Sophia Yakovleva '13 (Olexandriya, Ukraine) Event Location: Kiev, Ukraine $270 FLEX Alumni Grant Funding $420 cost share from: Veronika Kononchuk from the East-Ukrainian Art Therapy Association, Lyudmila Zahaynova from TV Channel 5  
Sophia Yakovleva implemented a three-day study program for six FLEX alumni and five youth volunteers dedicated to the topics of unbiased journalism, self-development, and nonviolence.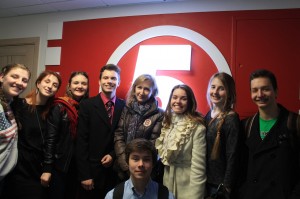 The program began on April 17 with a visit to the national TV station – Channel 5. There the participants were given a tour of different news production rooms, met young journalists and got to know the process of collecting and selecting objective information.  Media plays an essential role in the formation of public opinion, ethical principles and responsibilities of journalistic work were also discussed.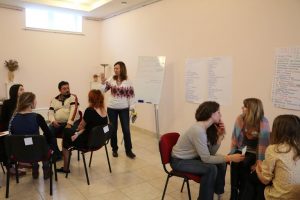 On April 18-19 the participants took part in a self-development training organized as a part of the global Alternatives to Violence project. During the training which focused on social feasibility, creativity and conflict resolution, a certified art therapist and trainer Veronika Kononchuk conducted a series of non-formal education activities. Through them the participants learnt different techniques of avoiding or getting out of 'deadlock' situations and found out more about the volunteer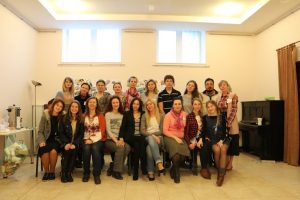 movement in Ukraine. 'This knowledge and improved personal skills will help us to contribute to building a healthier society in Ukraine,' says Sophia Yakovleva.
In the following months the team of FLEX alumni that took part in the study program is planning to run similar trainings in local schools promoting non-violent approach to conflict, equality and global cooperation.