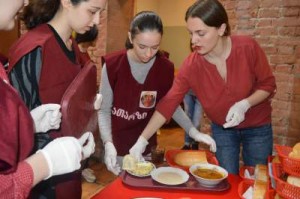 Rusudan Zabakhidze '13 (Tbilisi, Georgia) Event Location: Tbilisi, Georgia $271 FLEX Alumni Grant Funding $405 cost share from: Georgian Youth Delegate to the UN, Helping Hand, International Black Sea University, FLEX Alumni volunteers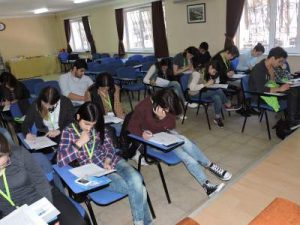 The main goal of the Youth for Community project was to provide FLEX alumni and university students with theoretical knowledge and practical experience of volunteering. From April 18-20, 22 students from local high schools and universities learned about the need for volunteering and participated in service events at the International Black Sea University (IBSU).
The workshop started with the training on civic engagement and community service held at IBSU. FLEX alumni shared information about Global Youth Service Day and best practices of volunteerism from the U.S., Europe, and Georgia.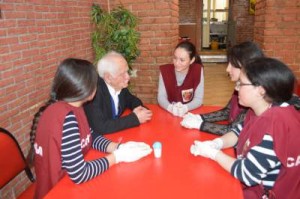 After lunch students met with the representatives of youth organizations, including Girls Leading Our World, Helping Hand, and Georgian Youth Delegate to the UN, who told them about their recent and upcoming projects and the ways to get involved. Naturally after this introduction everyone was inspired to put his/her new knowledge to the test.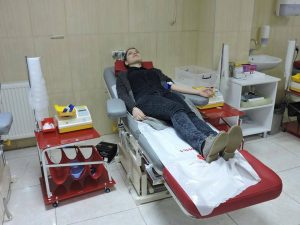 On the second day participants divided into two groups. The first one worked at the social support center Catharsis helping to prepare hot meals that are distributed daily to 300 vulnerable community members.  The second group headed to the blood bank. There the activists passed medical checks, after which the eligible students donated blood.
The third and final day of the project was spent cleaning parks and collecting trash followed by a written test and an official closing ceremony. That was only the final stage of the first chapter – by the end of the training most participants expressed interest in continuing their community service with the NGOs that they had been introduced to. Many links were established and both the NGOs and students benefited greatly from the training.
The YouTube video about 'Youth for Community' can be found here.