Elena Nicoleta Man '14 (Ratush, Moldova)
Event Location: Regions of Moldova
$500 FLEX Alumni GYSD Grant Funding
$1450 cost share from: Creative Development Association and community volunteers  

The goal of EcoMania 2015 is to promote an eco-culture and eco-behavior among engaged citizens at the national and local level in Moldova.  The FLEX Alumni organized EcoMania project includes five separate campaigns, running from March 20-May 7.
EcoAware: is the informational and promotional campaign for the EcoMania project, which involves mass-media at the national and local level – radio, television, and social media highlights to increase public awareness of environmental issues at national and local level in Moldova and to share best Eco-practices from around the world.  Sessions will be held to invite various stakeholders in the eco-campaign to discuss issues and inspire active citizens' role in solving community environmental issues.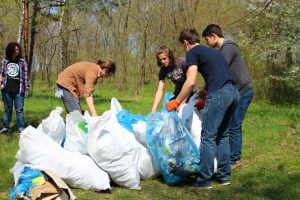 EcoOrganized:  gathers 25 volunteers from 11 regions of Moldova in the capital, to plan public-private partnerships to sponsor and organize ecological projects.  Project coordinators aimed to involve community members, schools and other youth organizations to carry out the projects.
EcoQuest: developed regional teams to document instances of local pollution and hold clean up events to improve Moldova.  Eleven teams of volunteers 22 volunteers took on the quest to reduce pollution in their communities.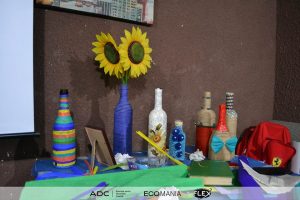 EcoTrendy:  says NO to plastic bags, say YES to bio creative bags. EcoTrendy worked with the community to manufacturing eco-bags, decorations from recycled materials, and sewing classes to design fashionable goods out of old clothes.  Thirty community members attended workshops led by Fashion Design students on fashion from an ecologically friendly perspective and learned about the ecological value of not using plastic bags.  The products will be sold at the EcoExhibition as a fundraising activity for future Eco actions.
EcoExhibition:  project participants submitted their pictures from EcoQuests and handmade works from EcoTrendy to raise public awareness of the events that they organized in celebration of Earth Day and Global Youth Service Day and to share the visible results of the work and measurable indicators of the projects. The EcoExhibition will take place on May 7 at the Hasdeu National Library in Chisinau, Moldova.
Learn more at the EcoMania Facebook page.