Munira Mirmamadova '09  (Khorog, Tajikistan/Austin, TX)
Project Title:  River Side Clean Up
Project Location:  Khorog, Tajikistan
$144 in 2014 FLEX Alumni Grant Program Funding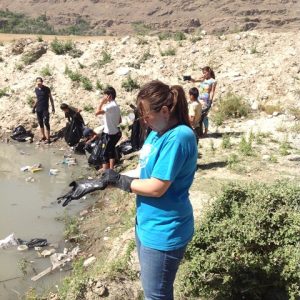 Munira Mirmammadova '09, coordinator and consultant on water safety at Hermits Peak Watersheds Alliance and holder of Environmental Management degree, organized the simple and beneficial Panj River Clean Up for her home town of Khorog, Tajikistan.  The project aimed to remove the trash in and on the banks of the river to prevent pollution and water pollution.  Due to high winds in the area, huge amounts of trash and waste fly into the river, which serves as the water supply to Munira's town.
Over 30 volunteers and community members worked with the alumna in cleaning up the river.  Participants collected over 250 kg (551 lb) of trash in one day!  Aside from this, volunteers held informal meetings with town residents on the importance of keeping the river area clean and how each person can volunteer to help support a clean environment.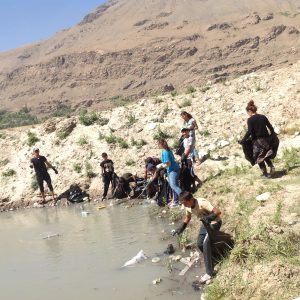 This project and the accomplishments of the small group of volunteers served as motivation for the community to pay attention to waste management and a cleaner environment in Khorog.  Moreover, the project served as a kick start to Munira's future work in the field of environment.   As a continuation to this project, Munira started working on a new proposal, which focuses on educating people about waste management and installation of trash cans near the Panj River.