Aram Serobyan '12 (Yerevan, Armenia/Saint Ignatius, MT)
Project Title:  English for Youth with Disabilities
Project Location:  Stepanavan, Armenia
$500 in 2014 FLEX Alumni Grant Program Funding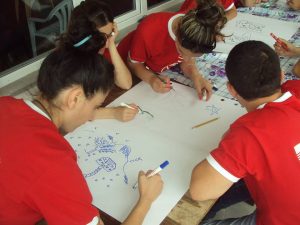 Aram Serobyan '12 (Yerevan, Armenia/Saint Ignatius, MT) in partnership with the Full Life NGO coordinated a three-month series of English language classes for young people with disabilities in the regional town Stepanavan.
Organizers found that the youth involved in the project, like many other youth with disabilities, tended to be shy and lack self-esteem and confidence.  Therefore, alumni included additional trainings to develop participants' teambuilding and leadership skills.   The ten participants left the English classes with improved language skills and equally importantly, a new confidence in themselves and a new group of friends.
English teacher Ani Ghukasyan '00 (Yerevan, Armenia/ Fresno, CA), Gurgen Hakobyan '12, and Syuzeta Martirosyan '12 assisted with the project.   Alumni organized classes with the hope to develop an inclusive learning environment for the students and teach English classes and American culture in an interactive way.  Upon the completion of the project, the ten students developed their language skills to an intermediate English conversation level.  Participants also noted that their improved knowledge of English expanded their range of their abilities and helped them to better adjust to the society. Participants found that due to the classes, they felt more comfortable stepping out of their comfort zones to freely communicate with others around them.
Upon the completion of the project, each student received materials and information about the FLEX program.  Aram plans to hold several follow up meetings with students to check in on their progress and motivate them to continue developing their language skills.