Omina Sanginova'07 (Khujand, Tajikistan/ Onalaska, WI)
Project Location: Khujand, Tajikistan
$2400 in 2014 FLEX Alumni Grant Program Funding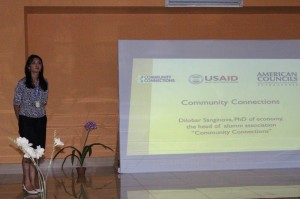 Summary:  Omina Sanginova '07  together with Community Connections alumna Dilobar Sanginova '92 organized a networking event to bring together active U.S. Government alumni in Tajikistan, offering them a professional networking opportunities.  The "Inspiration 2" event gathered over 50 alumni of all U.S. Government sponsored programs from the Khujand and Sogd regions in Tajikistan.The project was co-funded by Star Plast, the ComCon Association, the Hukumat Regional Government, and through donations from alumni living and working in Tajikistan.   Alumni of the FLEX, UGRAD, MUSKIE, Fulbright, TEA, Open World, Humphrey, SABIT, Community Connections, IVLP, IREX Community Solutions Programs, U.S.-CAEF, and Cochran programs took part in the event. Twelve FLEX alumni from the region participated in the event.  Organizers also invited participants from European Youth Exchange programs such as Erasmus Mundus and Tempus to share information with the alumni about educational opportunities in Europe.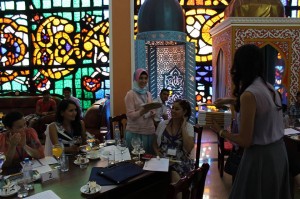 During the event, alumni shared their experiences in organizing successful projects. Community Connections alumna Dilobar Sanginova '90 and Fulbright alumna Farzona Rahimova '13 shared information about upcoming volunteer opportunities and explained how alumni volunteer opportunities can serve as ways to help both recently returned and experienced alumni build their network through volunteerism.  Other alumni presented alumni grants opportunities available to U.S. Government sponsored alumni at the reunion.  Former grant winners spoke about grant writing and project management, and shared information about their completed projects, aiming to encourage others to apply.  Finally, representatives of the Hukumat administration took part in the event to join in on the presentations and networking sessions with the goal to facilitate cooperation between Alumni and local government in to plan future joint projects.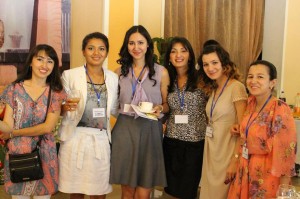 The reunion resulted in the establishment of cross program cooperation and a network between all U.S. Government sponsored alumni through the newly established Khujand Alumni Association where members now organize monthly meetings to discuss their further projects and activities.