All of the FLEX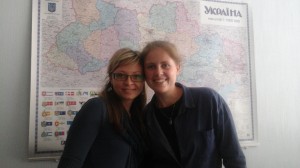 alumni have something in common. No matter where you go, what you do, and who you meet during your FLEX year you always come back home a new man, a changed person, with different world views, beliefs and expectations. No longer can returned FLEXers sit at home doing nothing, because your year in the states gives you this unfilling urge for adventures and paying back to the world for giving you this free ticket to the Dream Land. That is why the Bradley Herald FLEX alumni newsletter is always easy to fill.
This is a story of how three ordinary FLEX alumni became FLEX Recruiters in Ukraine.
Iryna Ivanets was a FLEX participant back in 2001. After coming back from the USA her life had changed a lot and she was ready for any challenges that life has set up for her. She got a degree in philology of Japanese and English languages. During her studies she became an exchange student, spent some time in Kyoto's University and discovered Japan as it is. After coming back she paired her studies with working at Boryspil International Airport where she met the love of her love. She's been happily married for 7 years now and has a beautiful little son Bohdan, who just started school. All of that wasn't enough for her so she got yet another degree in marketing.  She worked here and there trying to find herself, but it is only when she started working for American Councils for International Education that she started to feel at home. "I believe FLEX changes not only the alumni's life, but also, the country they live in. This is what we all are doing: changing ourselves and everything around us for a better future of our children" – says Ira.
Maryna Grynchuk is a FLEX alumni of 2007, spent her FLEX year in a small town Kuna, Idaho. She already got a Master's degree in Kyiv Institute of International Relations, the department of International Information. While studying there, completed an internship in the Ministry of Foreign Affairs of Ukraine. For her, working for American Councils for International Education is a possibility to contribute to the FLEX program, which completely changes lives of participants, making them more independent, mature and confident.
Ivanna Koziy spent her exchange year in a beautiful little town called Niceville, Florida. That is where her passion for working with youth and community development started growing. After returning home she entered university and already got a degree in Veterinary medicine. She did a lot of volunteer work throughout her student years. Her biggest achievement she sees in becoming a director of the CACTUS program (Community ACTion Ukrainian Style) for a while. This program was the one that still remains her main source of inspiration, because this is where one could always see and start believing in the amazing future that is in the hands of today's youth. CACTUS is what pushed her to work with young adults and contribute to her countries further development.
Today, all three of them help out in outreaching the future generations of the giant FLEX family while working for the American Councils of International Education in Kyiv. It is exhausting, daring, demanding, but most importantly, it is the most inspiring and rewarding job any of them has ever had!