Yulia (Mokshina) Sushkova '95
Saransk, Russia / Naples, Florida
Education: Law Degree in 2001, PhD (2003) and Doctoral Degree (2009) in Ethnology and Anthropology from Ogarev Mordovia State University
Profile written by Tatyana Movshevich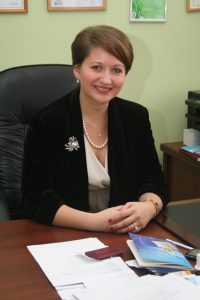 It is difficult to name a career field in which Yulia Sushkova is not active – she is an academic, a writer, a radio show presenter, and a chair of the International and European Law Department. However, her primary position is as Dean of the Law Department of the Ogarev Mordovia State University, one of the top 29 Russian universities, which have recently received National Research University (NRU) status.
Yulia was appointed as dean in 2009, prior to which she had been working in the same university in the position of a professor. Her main responsibilities are coordinating the academic process within her department as well as providing support for the ongoing department projects. As chair of the International and European Law Department, Yulia oversees the work of a group of lecturers who teach International and European Law disciplines.
'I like the work I am doing. First of all, because it is social and it allows me to educate young people who will then be involved in the development of our region. Secondly, I enjoy it because it gives me an opportunity to use my initiative and provides me with tools to make things happen,' – she shares.
Over the last few years Yulia implemented a number of international projects in her department. In 2013 she won a FLEX Alumni grant, which allowed her to organize the teaching module 'World Trade Organization (WTO) Law for Russian Regions' for her students, which resulted in the establishment of the consultative WTO center at Ogarev University. At the moment she is busy working on a project which is sponsored by Jean Monnet Programme, an EU initiative, which encourages academic and research activities in the field of European Integration studies.
Through the EU Initiative project the teaching module on the topic of strategic partnership between EU and Eurasian Union was developed. The full title of the module is "European Union and Eurasian Union as Strategic Partners in the European Integration Processes: on the way to "Big Europe" from Lisbon to Vladivostok". Together with her colleagues, Yulia has also developed two academic courses which are now taught to Ogarev University students  – 'Theory and Practice of European Integration' and 'European Union Law as a Source and Experience for Eurasian Law'.
'We are the only university in Russia which has been supported by this program. It is a 3-year project and we are in our second year. We have decided to do it because we feel it is extremely important to collaborate and build contacts with other academic institutions on the European level,'- Yulia says.
Yulia's main academic interest lies in the field of Legal Anthropology. She has written and published three monographs about Mordvin people. One of them, a book called 'Under the Sky of Canada', received international recognition. There Yulia described her discovery of the Mordvin community in North America: 'A couple of years ago I traveled to Canada to conduct research on a Russian community that moved there at the end of the 19th century with the help of Leo Tolstoy. During my visit to the community I discovered that a lot of people there were of Mordvin origin. What was most interesting is that after more than hundred years they still kept some of the elements of their traditional culture'.
The book launch took place at Ogarev University and was attended by a special guest, the Second Secretary of the Canadian Embassy in Moscow, Margaret Watts. Later Yulia was also invited to speak about her experience and her book at the Canadian Embassy in Moscow.
Yulia plans to continue her research in the U.S.: 'I found out that there is another minority group living in America, which are called 'Molokans'. They originally came from Russia at the same period and had Mordvin people among them. I learned that there is a family that has the same name as my maiden one – Mokshin. In a few months I am hoping to go to America to visit my host family and am planning to find out more about the Molokans while I am there'.
Yulia created an Ethnic Law laboratory in her university, which is dedicated to the study of traditional rights of Finno-Ugric peoples within Russia: 'It is an extremely important subject. Yet collecting information can be quite time-consuming, since most of the sources are verbal'.
Besides her university work, every fortnight she hosts a 40-minute live radio show, which is called 'Right to Your Own Opinion'. In this show Yulia interviews experts in the fields of law and economics, discusses problems, and gives an overview of positive practices and achievements in her region. She feels that the choice of her career was heavily influenced by her FLEX experience: 'FLEX was a truly defining experience for me. In many ways it predetermined my future work. During my FLEX year I gained invaluable knowledge about American culture, educational systems and government. Now I'm trying to share my experience with students and other people of my region'.
One of Yulia's core beliefs is in the importance of unity and integration into a global community. It connects all the work that she is doing and inspires her to strengthen links between her university and other international academic institutions. 'It is so easy to split apart, but so hard to unite again,' – she points out.
'As a message to FLEX alumni I would like to use a quote from a Russian poet Evgeny Yevtushenko 'Торопитесь делать добро' which translates in English as 'Hurry up to do good deeds'. FLEX gave us an opportunity to learn about different cultures – it is extremely important to share this knowledge and stay open-minded'.