The Journey of a Lifetime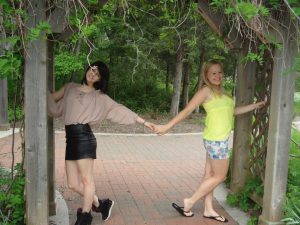 For many years, the FLEX program has given the journey of a lifetime for not only exchange students but also for their host families. We have hosted exchange students for four rewarding years and for the 2012-2013 year we hosted Kateryna Sergyeyeva from Kharkiv, Ukraine. Over the course of nine months we became closer than I ever thought possible. We had not only a friendship but a sisterhood. Her trip impacted not only her own life, it impacted mine. From when we first met, going through the year and even the day she left she impacted my life to the point that it will never be the same again. Let me share our life changing story with you.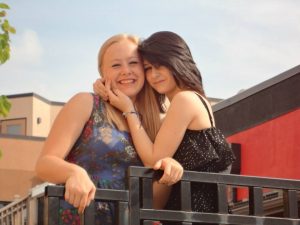 I first started talking to Kate over email and Facebook in August of 2012. We got along great even from the start. We talked about the normal stuff, what the weather is like, what I do for fun, what my family is like, etc. We talked every single day. I already felt like she was my sister and best friend even before she got here. I was so looking forward to her flight that I could barely stand it. When the day finally came I was the first one into the car waiting to drive up to the airport. We waited with a gigantic sign outside the gate and finally she came through with a huge smile on her face that matched mine perfectly. When we hugged, it felt like I was embracing a long lost friend. Not someone I'd never met before.
Through the year we grew ever closer. It seemed as though we had been together forever and not just a single year. We were always there for each other and with each other. Her friends were my friends and mine were hers. Whenever went somewhere or hung out with someone, we both went. We were a package. We were rarely apart. I loved her and she loved me. We were true sisters throughout this year. Salt and pepper twins as Kate called us because of her blonde hair and my black. She also gave me the courage to perform in front of a lot of people at our school's Pop'n Jazz show where we sang a duet of I Love Rock'n Roll by Joan Jett. I could have never done this without her. I couldn't have done a lot of things without her.
The last couple of weeks of Kate's stay were the hardest two weeks of my entire life. Counting down the days until my sister left was the most agonizing experience I have ever gone through. I wish I would've hugged her every second of those last two weeks instead of every minute. I spent the most time possible with her and never let her out of my sight. Nevertheless, even after everything I did to try to stop it, the day came when she would go home. Wednesday June 5th, 2013. I will never forget this date. When I hugged her goodbye, I was not hugging my exchange student goodbye. I was hugging my sister. My true, blood sister.
The FLEX program has impacted me more than anything I have ever experienced. I am an entirely different person than I was a year ago. I am more confident, braver, stronger, more mature, the list goes on and on. I am so thankful for what the FLEX program does. If it didn't exist I wouldn't have a sister and I wouldn't be the person I am today. I am sure, at first, the program was meant to give academically succeeding students a chance to experience another country and learn about the culture, the language and the people. But what they didn't realize was that they were creating a once in a lifetime experience for an American too. I am proud of the person I have become. And if we had never hosted with FLEX I don't think that person would be here, writing this essay, today.
Written by Harlee Kelley
Host sister of Kateryna Serhyeyeva '13