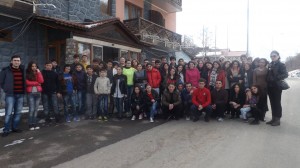 Camping is one of the ways to share fun, socialize, make new friends, establish enduring ties with peer from different regions, enjoy being around people who love nature, like outdoor activities, and enjoy camping to the fullest.
The idea of establishing the American Camp came from the Regional Development Center of Samtredia Municipality, and it's executive director – Sopho Kirtadze, who has been working with FLEX Alumni for a long time during various projects. The goal of the camp was to gather school students all over Georgia, peer educate them on various topics such as: Active Citizenship, Domestic Violence, Bullying, Human Rights, People with disabilities, Leadership, Tolerance, NATO, EU, Human Behavior in Social Environment, the importance of hygiene, physical fitness and nutrition.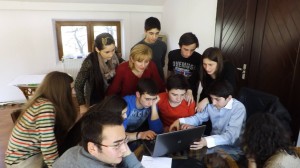 The first half of the days were dedicated to trainings which were held in English and another half was conducted in Georgian, where professionals focus on professional and academic development. Students were taught how to create CV and Cover Letter, how to conduct successful presentation and job interview manners. Guest speakers conducted sessions on Social Media.
The camp provided a friendly environment for youngsters in order to motivate and and guide them with informal education to the brighter future. The camp was held in three cycles: in March, April and June, collecting over 150 students for all three camps.
The FLEX alumni Community as well as Peace Corps Georgia supports regional development projects and provides with well-skilled, professional alumni/volunteers.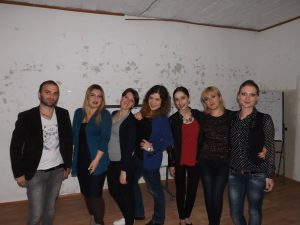 Three FLEX and two GHSEP (Georgian High School Exchange Program) Alumni have served as counselors on volunteering basis (Nino Jibuti FLEX'11, Natalia Kabulashvili FLEX'11, Ana Berikashvili FLEX'11, Naia Begashvili GHSEP'11, Kristina Akopashvili GHSEP'11). Counselors were selected considering their experience and background. Alumnae also took part into planning and organizing seminars, outdoor activities, and hiking. During seven day intensive camp girls led small and large group sessions and helped the organizers with running the camp smoothly.
Written by Nino Jibuti '11