We Can Do It!
Rati Papunashvili '11 (Tbilisi, Georgia)
Project Location: Tbilisi, Georgia
$2250 in 2013 FLEX Alumni Grant Program Funding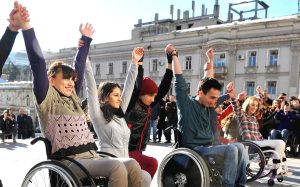 Summary: Rati Papunashvili '11 together with Omar Michitashvili '10 organized series of public awareness events in order to bring attention to the disabled and at-risk population in Tbilisi and the services provided to them in Georgia.  The project We Can Do It consisted of a flash mob on the streets of Tbilisi, where professional dancers joined the team of project participants on one of the busiest streets in Tbilisi. Prime Minister Irakli Garibashvili and the Minister of Defense Irakli Alasania attended the flash mob along with 500 of other community members.  The event was followed by a community concert, where people with disabilities and other special needs performed popular and traditional Georgian songs.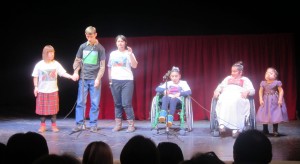 In addition to the public events, organizers held a one-day-training for community members on independent living options, during which the medical and sociological model of disabilities were discussed.  Participants also screened a film about American Disability Activist Ed Roberts, which aims to encourage children and adults with disabilities to be more active and break the stereotypes within themselves about their disability. The final part of the project consisted of an exhibition of Georgian Art, where paintings of famous Georgian artists were donated to raise money for Tato Murtskhvaladze, a local child diagnosed with cerebral palsy.
Partner Organizations: Coalition for Independent Living
Project Results:  The organizational team of the project has established a network of all project participants and is currently working on establishing an NGO.  Organizers fundraised $2100 at the exhibition, which was transferred to the Charity Fund "Sons of God" to pay for Tato Murtskhvaladze's surgery.
To view more pictures from the event please follow this link.