Ketevan Mamasakhlisi '13
CR for the Imereti Region of Georgia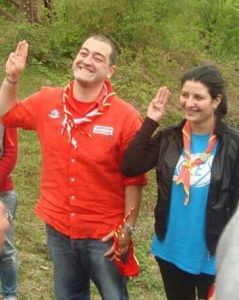 Ketevan Mamasakhlisi '13 is the FLEX Alumni City Representative of the month of April 2014 and was nominated by Alumni Coordinator Anjela Pakhlajian '10.  Ketevan has been the representative of the Georgian village Rokhi in Imereti region since September 2013 and has succeeded in holding an event every month that she has been a CR. Ketevan is described as very enthusiastic, motivated and organized!  In April, the alumna organized two events, one in celebration of Global Youth Service Day and the other in celebration of Earth Day.
For GYSD, Ketevan joined the nation-wide Safe Roads Project and together with 25 local students of the Imereti Scouts Organization raised awareness of traffic laws and pedestrian rights in Georgia.  For Earth Day, around 45 students from the Rokhi High School attended a presentation by Ketevan about the origins of the Earth Day, took part in a discussion about ways to protect the environment in their community, and learned how to start a recycling campaign.
Motivating alumni and involving community members in service activities is not easy!  Ketevan is doing a great job organizing events to involve community members in service events to make positive change in Georgia.
Congratulations Ketevan and thank you for the work that you do!