It all started with a phone call. I came home after a long, busy day, my hands were full of packages, and I almost missed the call but somehow managed to pick up the phone at the last moment.
"Hello!"
"Good day. Is this Kseniia?" said a soft male voice on the other end of the line.
It was my first acquaintance with Bohdan D. Hawrylyshyn – a world-renowned expert on issues of public administration and international business; Ukrainian patriot; a full member of the Club of Rome; an advisor to the first president of Ukraine, four chairmen of the Verkhovna Rada, and three prime-ministers (apart from many other titles).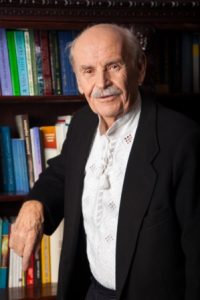 At that time, as a member of the youth NGO European Youth Parliament – Ukraine, I was organizing the NGO G20 Summit – an event for the most active youth NGOs in Ukraine. The Bohdan Hawrylyshyn Charitable Foundation supported our project, and Hawrylyshyn had been invited as an honorary speaker. He called me to get acquainted and to ask some simple, but important questions–about my life, studies, the summit and its participants. What fascinated me was his personal approach to each and every person; I know many active young Ukrainians who have some kind of story connected with this extraordinary man.
Half a year later the Bohdan Hawrylyshyn Charitable Foundation launched a new project called "Young Generation Will Change Ukraine" and invited members of the European Youth Parliament – Ukraine to participate. The objective is to create a critical mass of young people who could begin the process of transformation of the country by providing young Ukrainians with the opportunity to study some of the European countries that have reached the highest level of human and economic development. These countries include Switzerland, Sweden, Norway, Austria and Germany. Members of the European Youth Parliament – Ukraine formed a research group of 6 people with different backgrounds and fields of study – political science, law, business, languages etc. We chose to study Switzerland
One of the stages of the program is a trip to the chosen country. "To properly understand the country, one should sense it," says Hawrylyshyn. At the beginning of February 2014 we packed our suitcases with Ukrainian candies and cards from Euromaidan and traveled west to the picturesque mountains of Switzerland, where we encountered friendly people, delicious cheese and direct democracy in action.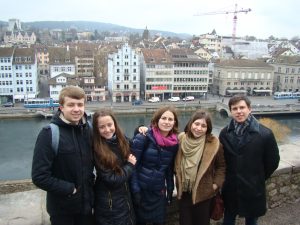 The latter we experienced to the fullest at a national referendum on February 9. We had a chance to visit a polling station in Zurich, see how votes are being counted and even enter the heart and the brain of the referendum–a room with many computers where all the results were accumulated. Apart from that, each member of our group had his or her own field of interest. I studied the Swiss taxation system and met with tax officials on the cantonal and federal level. I was amazed by the responsible and accountable approach to taxation in Switzerland. This is something Ukraine should definitely learn and adopt. There's still much reflecting and studying to be done in order to choose the building blocks of Ukraine's future societal order.
Bohdan Hawrylyshyn was never afraid to dream, to envision his dreams and to make them true. This is the wisdom he passes on to young Ukrainians. If you want to change your country, don't be afraid. Learn. Dream. Act.
We made the first step and we are not inclined to stop. Our young generation will change Ukraine!
Article by Kseniia Choni.