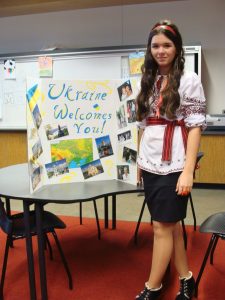 Maryna Mykhalyenko
Tulalip, WA/Zhytomyr, Ukraine
Zhytomyr Ecological Lyceum #24
"I understand now that there is nothing more important than working towards my dream and being responsible for every action that I take."
It's no surprise that Maryna Mykhalyenko '13 of Zhytomyr, Ukraine, was named City Representative of the Month in December 2013, given her hard work in initiating a number of projects in her local community. Since returning from her FLEX exchange year, she "decided that  there is no more time to waste […] and I have to do everything that is in my power to at least little by little improve the society I live in." As a result of this drive and ideas proposed by older alumni, she has already started Kids' Club, an educational group that holds classes every Sunday to teach children more about English and American culture.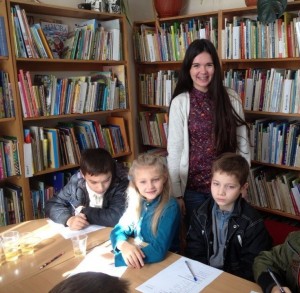 Maryna, who was interested in educational projects, started the club with fellow FLEX alumna Vera Lytynova '13 with the idea of providing free courses for children from 1st to 7th grade (6 to 12 years old) in an environment based on the American education system. The alumni teach all classes. In their first meetings, the teachers organized tests to determine the children's level of English and explained their plans to parents. Kids' Club got off to a great start when more than 100 people signed up.
Aside from these responsibilities, Maryna organizes teacher meetings to make sure that every session is productive. She coordinates with FIDEM, a charitable organization that raised media attention for the Kids' Club. And in her position as a City Representative for Zhytomyr, she submits weekly reports on local activities, organizes at least one event a month, and keeps track of reimbursements.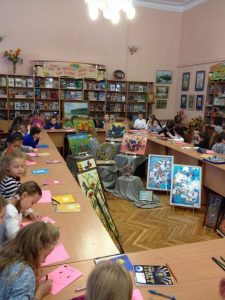 The Kids' Club is unique among free English classes in the dedication and creativity shown by its organizers. Classes are held every week and are consistently attended by about 50 children. The teachers plan different lessons for different levels–for example, the youngest children started off making words with the first five letters of the alphabet, while third and fourth graders sang songs and reviewed grammar. The oldest students had special lessons related to the theme of celebrities, a topic that wouldn't normally be covered in school.
Homework is also an important part of the lessons–even the youngest children had an assignment to talk about their favorite Disney characters! This way, even though the club is free, children and parents will understand that it is serious and worthwhile. Creative rewards systems involving star stickers and end-of-year prizes also inspire the kids to apply themselves. Maryna says that the hardest part of teaching is "finding a personal contact with every child and keeping them excited and interested," but adds that "as soon as we come to the library every Sunday, all the worries and tiredness goes away somewhere."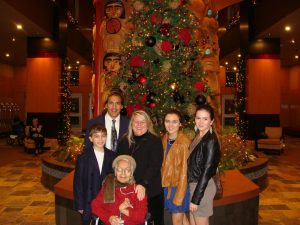 Throughout monthly reports from Central Ukraine, it's clear that the lessons are effective: children learn more grammatical constructions and have progressed from learning basics to playing more elaborate games and even writing letters to American friends. The most exciting moment was at the Christmas session, when students wrote down wishes and dreams for themselves.
"I understood that nowadays […] students haven't lost their naivety and beliefs that dreams really come true! That was the moment when I understood that we are here not only for teaching some English but also for making children a little happier, and we could be the ones who give them hope!," she says.
Maryna and Vera also organized Don't Judge a Book by Its Cover, a social action that aimed to raise awareness of tolerance and how they judge others–books were wrapped in paper and labeled with keywords, so participants chose them based on what was inside, not on the cover. Other projects include Candy for Cigarettes, a health-based action.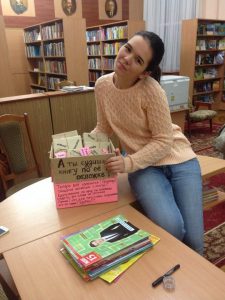 She thanks everyone involved in FLEX and the volunteer activities who believes in her, supports her, and shares her dreams. Without her team, "I can definitely say I wouldn't have achieved the things I have achieved today!"
Of the crucial time that changed her life, she says that "America gave me wings to fly" and that the people she met there played an enormous role in shaping who she is today. Through FLEX, she decided to live her life not only for herself, but for other people. "Our life is too short to live it only for ourselves. Helping people and volunteering is one of the best ways to make my life memorable," she commented. If that's the case, her life must already be bursting with memories.