Upgrade Your Way
Nino Jibuti '11 (Tbilisi, Georgia)
Event Location:  Georgia, Tbilisi
$604 in FLEX Alumni Grant Program Funding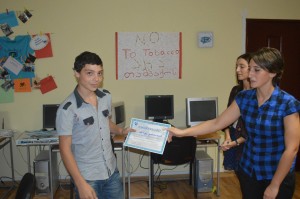 Summary:  Children from the Tbilisi Orphanage took part in personal development and computer literacy trainings.  On September 20-22, at the Alumni Resource Center the 15 children involved in the project took part in sessions ranging from career and personality tests to determine ideal career paths, grant and scholarship sessions for Georgian and international universities, and job interview and resume-writing trainings.  The last day included information about children's rights from both Georgian and International point of view and a discussion on the Georgian government's ability to protect minor's rights.  FLEX alumni were key speakers at the event and also held a session about their experience on the program, encouraging the children to also apply.
More information about this project can be found at http://upurway.wordpress.com/about/