I Won't Be Your Victim
Sevinj Huseynova '11 (Khachmaz, Azerbaijan)
Event Locations:  Baku, Khachmaz, Sheki, and Tovuz, Azerbaijan  
$750 in FLEX Alumni Grant Program Funding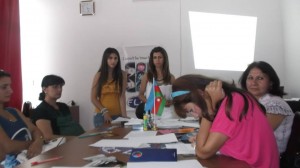 Summary:  With support from local NGOs, Sevinj Huseynova '11 organized the project I Won't Be Your Victim, a project focused teaching participants how to recognize traffickers and prevent human trafficking it in their communities.   The project was multi-faceted and involved organizing presentations at various locations.
Sevinj, together with four team members from the Human Rights Monitoring Center and European Movement against Human Trafficking led presentations and trainings for high school students and adults in the cities of Tovuz, Sheki, and Khachmaz.  Events were held at summer camps for youth, at the Kachmaz Human Rights Monitoring Center for school teachers, representatives of Khachmaz Orphanage, and the home for children with disabilities.  At all of the events participants received informational brochures about human trafficking including statistics about the issue in Azerbaijan and around the world.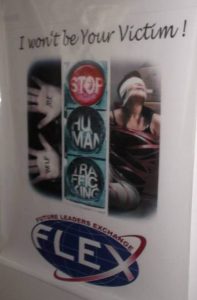 This project also received the support and backing of the U.S. Embassy in Azerbaijan and the European Movement against Human Trafficking (GAA).  More information about the project can be found at https://www.facebook.com/media/set/?set=a.284602928346491.1073741830.210568592416592&type=1