Help and Travel
Daria Batalova '12 (Vinnytsya, Ukraine)
Event Locations:  Cherkaska, Chernihivska, Dnipropetrovska, Kirovohradska, Kyiv, Poltavska, and Sumska, Ukraine
$2500 in FLEX Alumni Grant Program Funding plus  $4 130  grant from Public Affairs Section of US Embassy in Ukraine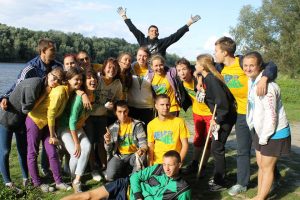 Summary:  July 21 marked the beginning of the Help and Travel project, funded by the FLEX Alumni Grant program.  The six alumni program organizers and 19 volunteers of the Help and Travel Tour took part in an orientation and then traveled throughout Ukraine to take part in community service projects.  From July 22 – 28, the team of 21 volunteers took part in volunteer activities ranging from river clean up events of the Desna River to digging drainage ditches and trenches for the Petrykivka Museum of Ethnography.  At all events in the six towns where activities took place, local youth and other supporters of the project assisted the volunteers with the service activities and participants were welcomed and received project support from the local administration.  During many of the events, national and local news and radio channels reported on the work of the project volunteers.   Participants also took part in a follow on meeting to discuss plans for future program years.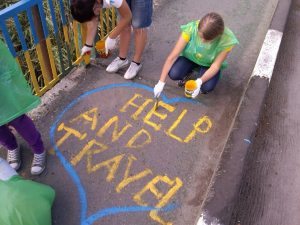 Alumni also received support from the partner organization Let's Do It, Ukraine and .
More information about the event can be found at the following:
https://www.facebook.com/pages/Help-and-Travel/545406302139342
http://www.helpandtravel.com.ua/p/blog-page_2332.html
http://vk.com/public_helpandtravel
"Help and Travel cannot change the whole country, especially the world. But I know that it can change the world for at least 5 people, which then will change the world five more people each!"
Inna Ostapenko, project team member.