Extension of Water Pipe in Selkhoztekhniva Micro Region
Laylo Sabzalieva '07 (Dushanbe, Tajikistan)
Khorugh, Tajikistan
$2998 in FLEX Alumni Grant Program Funding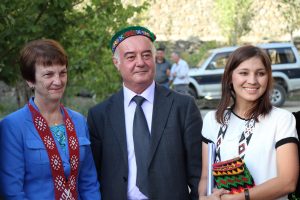 Summary:
Laylo Sabzalieva '07 completed the grant project Extension of Water Pipe in Selkhoztekhniva Micro Region with words of congratulations from the U.S. Ambassador to Tajikistan Susan Elliot and the mayor of Khorough, Tajikistan. On September 24, 2013, representatives from the US Embassy, American Councils, Focus International, Pamir Energy, and the Government of the City of Khorugh, Tajikistan gathered to celebrate the completion of a projected implemented by FLEX alumna Laylo Sabzalieva. The project brought clean drinking water to a community living on the outskirts of the remote mountain town of Khorugh. In addition to representatives of the various organizations that assisted Laylo with funding and project implementation, many members of the local community, media, and other FLEX alumni were also in attendance. Ambassador Susan Elliott gave opening remarks at the ceremony before pressing the button that started up the water pumps at the base of the project. Ambassador Elliott noted that Laylo is a great example of how education and hard work can transform a young woman into a leader in her community.