Kholmati Kholik '09
Kanibadam, Tajikistan/ Lyons, MI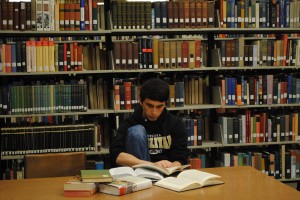 Sometimes I wonder what would have happened if I hadn't become a FLEX alumnus. I probably would have ended up a migrant worker in Russia, working with my cousins in a construction company or earning a living as a taxi driver. After becoming a FLEX participant and alumnus I started to see the world around me with different eyes and decided to stay in Tajikistan, continue my higher education, and be a part of Tajikistan's bright future. FLEX introduced me to many people who later became my true friends, role models, and the ones who would always encourage the success of those around them. I believe that FLEX can develop and strengthen friendships between countries, while giving its participants the experiences needed to become future leaders.
During my year as an exchange student in 2008-2009 I lived in Michigan and studied at Ionia High School. That year was full of new experiences, challenges, and achievements. It made me more independent, mature, tolerant, and, most importantly, it increased my love for my family and my country. Upon my return, I remember the warm welcome I received, and how our Alumni Coordinator Shuhratjon Ashurov '07 encouraged me to participate in the FLEX community.  Being with young future leaders motivated me to be active both academically and socially, bringing positive changes to my society while working with youth, orphans, and the elderly.
After dedicating a lot of time and effort to organize volunteering activities, I was chosen as the FLEX Alumni Coordinator of Tajikistan in 2011-2012. It opened a new door of opportunities, successes, and excitement.  With the help of our active and motivated FLEX alumni we made the 2011-12 program year unforgettable. It became one of the most successful years in our alumni community's history.
With the help of American Councils staff members, the U.S. Embassy staff, local youth organizations and NGOs, and dedicated alumni, we organized over twenty activities each month and received more than ten grants to organize projects to meet real needs in communities across the country.  The projects were implemented in various parts of Tajikistan and focused on assisting orphans, high school students, and the elderly in rural communities.  Some of the highlights of the projects included hygiene grant projects where alumni built bathrooms in orphanages, placed over 50 public waste bins in towns, and conducted hygiene seminars for orphans and elderly people.  We held motivational seminars with high school students from rural areas to teach them leadership skills and give them information about university opportunities, gender equality, and volunteerism. Alumni also organized summer English language learning camps for orphans.  During the 2011-2012 program year we also helped the U.S. Embassy in Dushanbe coordinated youth group meetings with U.S. Secretary of State Hillary Clinton together with the help of Embassy staff, raised $5000 during the Fashion for Cause fundraising event. Finally, after partnering with the Rotary Club of Tajikistan on a number of projects, the first ever Roteract Club of Tajikistan was launched and I became its first president.
After finishing my year as the FLEX Alumni Coordinator I was determined to find additional opportunities for my personal development.  I became a finalist of the Global Undergraduate Exchange Program for Eurasia and Central Asia (UGRAD) and studied in Nebraska Wesleyan University (NWU) for one academic year. My experience at NWU made me even more interested in politics and diplomacy. During the second semester I was accepted to take part in an internship with U.S Senator Mike Johanns's office in Lincoln, Nebraska, where I had a chance to work with high ranking political officials including the Senator, the Governor and Lieutenant Governor of Nebraska, a U.S. military general, Tajikistan's Ambassador to the U.S., and many others. I had the opportunity to experience American government from the inside and share information about my own government with my colleagues.
After returning to Tajikistan I started working for the National Security Language Initiative for Youth (NSLI-Y) as a Program Coordinator for Tajikistan with American Councils.  I would like to extend my portfolio and also assist with the U.S.-CAEF Enterprise Undergraduate Business Fellowship program.
Despite the many programs and activities I have been involved with, I always prioritize the FLEX alumni community. This summer I am leading two projects with FLEX alumni: repairing a bathroom in a tuberculosis center in a rural area of my hometown in Kanibadam and conducting English course with orphans.
I believe that in many people's lives there is always one aspect which helps them to understand who they really are and shapes their future.  In my case that aspect was the FLEX program.