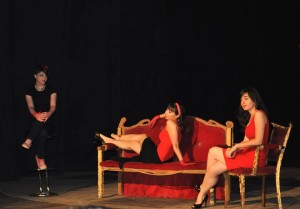 Elene Chumburidze '09
Tbilisi, Georgia/Lake Station, IN
"The Vagina Monologues" is an internationally acclaimed play created by Eve Ensler in 1996. On the 26th of June, 2013 for the first time ever on a theatrical stage of Georgia, the play was translated and performed by a group of non-professional Georgian volunteer actors, through organizational support of "Identoba", LGBT and gender equality focused NGO, representatives of which were also initiators of the idea itself. The play was performed on Shota Rustaveli State University stage.
The clear purpose of the show was to enhance the awareness and touch upon such extremely delicate, painful, intimate and sometimes tabooed subjects as sex, rape, childbirth, disfigurement of female genitalia and other physical or psychological discrimination, as well as taking pride in being strong and beautiful women with powerful voices, which was apparent throughout execution of the spectacle.
Although there was a slight hitch during the performance, specifically several young Georgian men standing up and shouting various insults towards the actors, accusing them of disrespect towards the institution the play was held in and other offenses with religious connotation, overall the idea behind the play was delivered to the audiences and the feedback from them was overwhelmingly positive.
As a member of the cast and crew, I feel incredibly proud to have taken a part in this installment, which was a very public feminist statement and a huge step towards opening the Georgian society on the important themes as portrayed in the show.
NB: Even though three of us FLEX alumnae, Liana (Lika) Barabadze '02, Sopo Tabatadze '04 and I, happened to be part of the cast, I would like to note that the play had nothing to do with FLEX activism. I ask that it be noted in the article, as otherwise it would be unfair to other actors as well as organizers' effort. Thanks.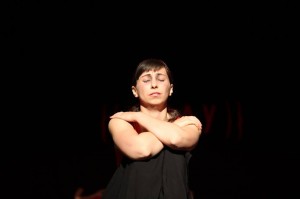 Editor's note: This was a unique initiative in so many ways and all three alumnae have a lot to share. Lika had been in a production of "The Mouse that Roared" in her high school drama club in Utah during her FLEX year, but none of the alumnae had otherwise been involved in theater. To learn more about this production and the impact it had on her, Lika Barabadze offers her powerful blog entry on the performance. Sopo Tabadadze, who is currently traveling in Eastern Europe before beginning a Master's degree program in Sweden, says that "It has been my dream to be part of staging the play in Georgian since the day I heard about it."  She further offers, "I think the best way to share the story would be to make a small movie about Vagina Monologues, including background info on feminist and LGBT movements in Georgia, including the FLEX alumni involvement in it. Vagina Monologues was very important part of this movement. For example, I am a member of Independent Group of Feminists – non-registered and non-hierarchical feminist initiative. Lika and Elene are more involved with the LGBT organization Identoba."