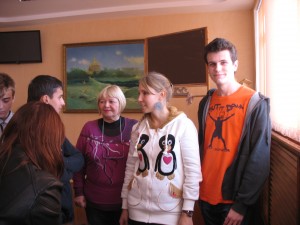 Serhii Rokachov  '12
Yevpatoriya, Ukraine/Adams, NY
It is with tremendous excitement and honor that I am announcing I will be joining New York University's Global Network as a student of NYU's  campus program in Abu Dhabi, the capital of the UAE .  I should admit that I owe my acceptance to this amazing institution and receipt of full-ride scholarship primarily to the Future Leaders Exchange Program. So, how has FLEX led me to such an unprecedented opportunity?
First and foremost, my FLEX experience expanded my horizons. Before I went to the US, I had very little comprehension of many global processes and could barely visualize life outside of the post-Soviet states. In the U.S.  I have confronted a myriad of views and conventions opposite to the ones I had been accustomed to. However, this cultural clash only compelled me to explore the US culture and history to ultimately understand why Americans think and act differently.  By the end of my exchange year, I felt like I had integrated into American society: I have adopted many American habits and could vehemently discuss a broad range of subjects about the US politics, economy, foreign policy, education, etc.  But most importantly, I have learned how to view complex problems from multiple angles – my outlook was no longer secluded within a single cultural, traditional, or societal paradigm.  The conceptual flexibility I acquired in the US was one of my major strengths I tried to manifest throughout the NYU application process.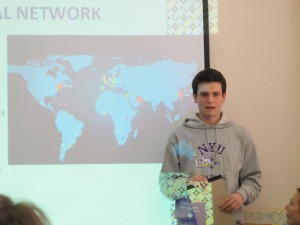 It is also worth pointing out that NYUAD's Admissions Committee not only seeks the most academically gifted students from all over the world, but also aspires to identify future global leaders who exhibit fortitude and boldness as well as ardent enthusiasm.  I think these are the virtues I have developed to a certain degree while in the United States, as I have gone through many predicaments and outrageous situations that coerced me to solve problems independently and take the initiative in order to alleviate potential conflicts.
Yet the biggest challenge I had to tackle was the reverse cultural shock I experienced upon completion of my FLEX year. Coming back to Ukraine several months ago, I had a great fear of just getting stuck in my home town where the opportunities for personal growth are very scarce. However, I was simultaneously filled with a voracious desire to change something in this stagnant society and create new opportunities for myself and others. This inspired me to become the FLEX City Representative in Yevpatoriya and run several projects aimed at promotion of community service and fostering awareness of American culture here. Certainly the portfolio of volunteer and leadership activities I have built due to FLEX also contributed to the Admissions Committee's decision to rule in my favor.
Finally, the FLEX Program opened some amazing academic opportunities for me. As a student of South Jefferson High School in New York, I seized the chance to take AP and NY Regents courses and tests that not only introduced me to American college-level work, but also helped me marshal my best case for admission by showing my academic preparation for the rigorous NYUAD curriculum.
No doubt FLEX has been the greatest opportunity in my life that led me to an educational experience of unparalleled quality and innovation. I am positive the invaluable skills and knowledge I have gained in the U.S. will yield even more phenomenal accomplishments and bring me to an engrossing professional career.