Lyubov Bordayeva '03
Moscow, Russia/Inchelium, WA
Two years ago my friend Rimma and I were united in an urge to start something that will be socially beneficial and represent our personal passions at the same time. I love art; my thesis paper in MGLU was on the contemporary art of China. Rimma has a very strong scientific interest in psychology, and she is currently obtaining a MA in psychology from NYU. We came up with a cutting-edge idea to implement art therapy classes in our hometown of Elista, choosing mentally disabled children to be our beneficiary, as this particular social segment is so often overlooked and even neglected in Russian society.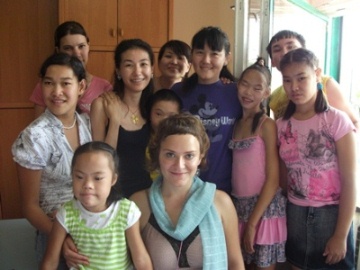 It was a long, challenging path. The first year we applied for several grants, including UK "Rediscover Your Heart" foundation and FLEX Alumni Grant Program, we were not lucky to be chosen. We also cooperated with "Avant fest," a club that promotes young independent Russian musicians. They were about to throw a series of concerts, and agreed to donate a small share of their revenue to our project. At that time Moscow suffered from a terrible outbreak of forest fires, which in turn affecting the concert turnouts. Consequently we were disappointed by the outcome of the cooperation. All that being said, we never gave up trying or lost hope as we strongly believe that any noble and beautiful idea has its natural right to life.
Even though our main idea of art therapy classes was not put to life yet, we managed to secure financial support from Renaissance Capital. We bought a musical recording synthesizer, since music therapy is a very efficient technique in terms of psychological impact on mentally challenged children. Siemens donated developmental game kits and amazing robot toys. In addition, we never stopped fundraising and tried to draw public attention whenever possible.
We improved our proposal and budget and the following year "Paint the Rainbow" project approved as a FLEX Alumni Grant with funding by the US Bureau of Educational and Cultural Affairs. Ekaterina Saprina, a very young yet skilled psychologist and art therapist, was eager to travel to Elista and share her expertise and knowledge with the children at the local Boarding School for mentally disabled. She created a series of effective art techniques master classes that were successfully carried out. The children were taught to produce fine pieces of handcraft that are sold on various charity fairs and social events.
We set out to achieve two main goals: draw public attention to the needs of these children and start a strong educational project that would not limited by any time frame. A lot of media attention was paid to our project, including several newspaper editorials, a live TV program, and a short clip by the federal channel Vesti. Surprisingly, after we finished the project, many donations came to the Boarding School, including anonymous sponsors, donating 100 thousand rubles worth of furniture and orthopedic equipment. In addition, our idea of art therapy evolved – the teaching staff picked up new art techniques, which proved the sustainability of our project.
In conclusion, I would like to reach out to my fellow alumni. You don't have to an alumnus/a to do something good. Rimma, who is not "officially" an actual alumna, but as I like to call her 'an alumna at heart', has always been the driving force of our project. You don't have to feel big to do something considerate and worth trying. We still are two young girls, not representing any foundation or organization. You always can initiate something and will be amazed at how many people come to your help.
Our project is called "Paint the Rainbow," and its goal is to offer artistic experiences to children with chronic mental illnesses, who benefit enormously from attending regular art therapy classes. Moscow alumni network of the US-based Future Leaders Exchange (FLEX) program helped us define the framework of the project, as well as provided a unique platform for exchanging ideas on various community volunteering projects.