By Kristina Stierankova '20 (Hrachovo, Slovakia / Kuna, ID)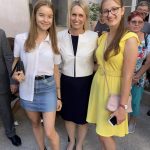 Being a FLEX alumna is such a great gift, and has continued to be a never-ending story for me. When I first applied for the FLEX program, I read that after coming home from the U.S., alumni have many opportunities to give back and to be part of an international community. That's when I told myself that it must be really great even after you come back. And now I am witnessing it for myself.  
The FLEX program is not just about the exchange itself and an unforgettable year spent in the U.S. There's a lot more to it. So what can you expect after your year-long exchange is over? 
Re-entry seminar:

After our return from the U.S., we participated in a re-entry seminar. Its goal was to make our adjustment back to our home country as easy as possible. We also had the opportunity to share our experiences and hear others'.

 

FLEX family:

As FLEXers, we get along really well and love seeing each other. We support each other, share our achievements, and celebrate American holidays together.

 

Alumni Coordinator and City Representative positions:

As

FLEX alumni, we have the opportunity to apply for the position of Alumni Coordinator or City Representative (CR). I applied for the position of Alumni Coordinator, and it worked out. My job is to coordinate alumni, their activities, organize activities myself, work with the available budget and with the international team. This experience gave me knowledge and skills that I use every day. I also had the opportunity to work with our CR, Filip. It is a volunteering position where the CR represents their city and organizes activities.

 

Organizing activities:

With an available alumni budget, we can organize activities that we would otherwise not be able to afford financially. This is how we organized alumni teambuilding which we combined with cleaning-up the surrounding nature. Another volunteering activity related to taking dogs for a walk after having a reentry seminar. We also had three alumni who lead an activity where they taught children more about the environment, plants, and animals. Next, an essay-writing competition was organized by our city representative through a unique U.S. Embassy grant. It was focused on high school students who wrote essays on the topic of "American Dream". Its goal was to provide these students with writing skills and therefor the competition began with an essay writing webinar. Similarly, we had several online courses where alumni could learn useful tips about time and stress management and presentational skills.

 

Cooperation and support:

As alumni, we have a lot of support from American Councils as well as  partners like American Spaces, the U.S. Embassy, the Fulbright Program, NYU Abu Dhabi, and many more.

 
These are just a few of the many benefits that come with being a FLEX alum. What has being part of the alumni community meant to you?