In late December 2020, Luka Bluashvili '19 (Tbilisi, Georgia/ Belleville, IL) traveled to the remote Georgian village of Atotsi. As he surveyed the mountainous region around him, he saw obstacles to free movement everywhere: towers, fences, and border guards surrounded three sides of the village on the border of Georgia and the Russian-occupied Tskhinvali region (the so-called South Ossetia) of Georgia. Simply speaking, he saw problems everywhere he turned.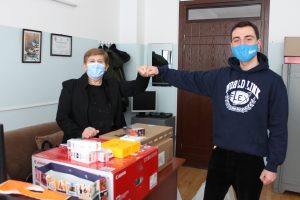 Not to mention the ongoing pandemic, which made students in Atotsi's school even more cutoff from the world.  Luka arrived in Atotsi to help solve that problem, bringing with him a laptop, printer, projector, and mobile phones for students with no access to the internet for online classes. His trip to the village was the final step of a project that germinated during the community service he completed as part of his FLEX exchange year in the U.S. In completing 100 hours of volunteer work in his host city of Belleville, IL, Luka supported his host community by working in a neighborhood garden and being involved in community clean ups.  He also held fundraising events, which ultimately paid for the educational supplies the Atotsi school desperately needed to connect their students during the pandemic.
"I had been given an opportunity (through my participation in FLEX)," he said during an interview from his home in Tbilisi, Georgia. "And I felt that I had to do something to give back to my community in Georgia." That idea to give something back coalesced during a trip to Washington, DC for FLEX's Civic Education Week. "I still remember seeing the logo of E Pluribus Unum on Capitol Hill, and it stuck with me," he said. "Georgia has a similar motto: Strength is in unity."
Upon returning home, Luka turned his attention to the Tskhinvali region.  The region has been occupied by Russian-backed forces since the war in 2008. As a village in disputed territory on the border, Atotsi remains particularly vulnerable to being occupied again. In the face of a history of war, Luka chose a humane focus. "We need to fight against border fences with education," he said.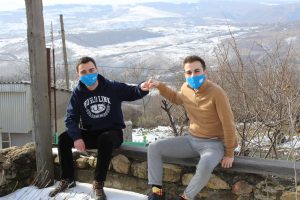 To support the effort, which he called "Georgia on My Mind," Luka raised $1,600 through cookie and donut sales at his high school, a Facebook fundraiser, and individual donations from American and Georgian citizens during his 2018-19 exchange year. To attract the attention of students at Belleville West High School to his project and fundraising efforts, he walked the halls wearing Georgian national dress called Chokha, a traditional mountaineer outfit. In the process, he raised students' awareness about the 2008 conflict between Russia and Georgia, the ongoing territorial conflict, and the project he was getting off the ground to support communities in these regions.
Ironically, Luka's FLEX year in America initially required him to leave behind his Georgian culture, even forget about if for a time. In recalling that time, he talks about the importance of "leaving your comfort zone" when in a completely new environment – especially at the start when nobody knows you.  "You have to isolate yourself from your native country to connect with others," he explains. "Be the one to start the conversation, to introduce yourself."
All that was made easier for Luka by being placed in a host family that clicked from the start. With the Geiger family of Belleville, there were common interests, among them mutual curiosity about each other's countries and cultures and a host brother who was the same age. Plus, there was always lots to learn and share around the dinner table, with host parents who were experts in the fields of computer science and philosophy and host siblings studying law.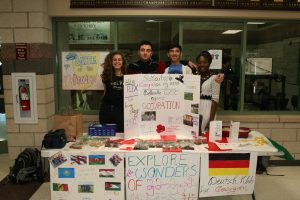 Luka's newest project tackles the problem of students at his university who are struggling to keep up with their academics because of the pandemic. Luka started the "integration group" to help ethnic Armenian and Azerbaijani students – as well as students from the Russian-occupied separatist regions of Abkhazia — who attend Tbilisi State University. Since they are not native Georgian speakers, they particularly suffer during remote learning when they have fewer chances to practice speaking Georgian, the language of course instruction.  "Why not use Zoom to help them speak in Georgian and improve their language skills?" Luka thought. The group of close to 20 students meets weekly. Even the recent war between neighbors Armenia and Azerbaijan didn't throw off the discussions. "There was no tension between ethnic Armenian and Azerbaijani students in the group," Luka says. "They called themselves citizen of Georgia from these communities, united by their home country."
In both his extracurricular projects and approach to life, Luka carries with him problem solving skills that he learned on FLEX and returned home with him to Georgia. "For some weeks after I returned, I thought I was the same person I was when I left nine months before.  That was until I faced problems and obstacles and overcame them. I realized I wouldn't have gotten over them so easily if I hadn't gone to the U.S. It was a life-changing experience – a foundation for personal growth."