Can folk and modern poetry help to overcome post-conflict trauma?
Iryna Shuvalova '02
Kyiv, Ukraine / Athens, TN
Education (university, degrees, major, area of specialization):
Cambridge University, PhD in Slavonic Studies (Gates Cambridge Scholarship)(2016 – present)
Dartmouth College, MA in Comparative Literature (Fulbright Scholarship) (2013-2014)
Kyiv Institute for Translators and Interpreters, Specialist in Translation (2010-2012)
Taras Shevchenko National University of Kyiv, MA in Philosophy (2007-2008)
Taras Shevchenko National University of Kyiv, BA in Philosophy (2003-2007)
At the moment you are working on your PhD thesis at Cambridge University. Why did you decide to return to school?
I have never properly left school. I am a perpetual student and a perpetual worker. I started working when I was in my second year of undergraduate studies and have been combining studies, employment and creative work ever since. While doing my BA and MA degrees in Philosophy in my native Ukraine, I was writing and publishing poetry. Later I began to translate poetry and prose between English, Ukrainian and Russian, eventually proceeding to receive a graduate degree in Translation. After studying Comparative Literature in the U.S. on a Fulbright Scholarship, I became inspired to do a longer postgraduate research, and over the next year gradually identified my research topic.
What is your PhD research about and how did you find your topic?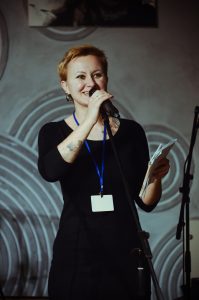 After returning from the U.S. I published two collections of poetry and went on a book tour to present them. As it was 2014, the year of the Euromaidan, all people talked about was the political situation in the country. They were trying to digest the ongoing events, but no one knew how. Neither my parents' generation nor ours had the experience of being in such close proximity to a military conflict. So, during my tour we discussed violence and conflict as they are understood, reflected, and interpreted through poetry. These talks led me to exploring folk songs and folk poetry that suddenly gained a new relevance in the modern context. Situated on the border between various empires and civilizations, Ukraine has been involved in military conflict over many centuries and the strategies of coping with violence and trauma were well-preserved in our folk tradition.
When people were being killed in the Euromaidan, the only piece of art that could represent people's grief was an old folk song 'Plyve kacha…'. It's a dialogue between a mother and a son who is going to die in a foreign land. Reflecting people's sadness and confusion, this poignant song became a requiem for those who lost their lives during the Euromaidan. I started digging deeper and discovered more fascinating connections between modern and folk poetry and current events. I am most interested in studying the effect that oral literature produces in the process of overcoming post-conflict trauma. The Soviet period in this respect is particularly interesting – it's thrilling to trace folk tradition that has survived underneath the dominant cultural trends, survived despite censorship and de-authentication of the folk tradition. There are many questions that are still unanswered, and I can't wait to tackle them in the next few years.
What would you consider to be your main achievement?
Despite all the ideals of liberalism and pluralism declared in the more well-to-do parts of our world, we are often pushed to dedicate ourselves professionally to do something that we have never had any interest in. In our society we're often encouraged to follow the crowd, blindly pursuing career growth and rushing for achievement. But in reality we often end up making money for wealthy owners of companies and for global corporations. I'm not sure what's scarier – a traditional image of a ruthless cigar-smoking factory owner who openly exploits workers for his own benefit or a successful contemporary Silicon Valley-style business owner who pursues essentially the same goals but delivered in a nicer, trendier wrapping.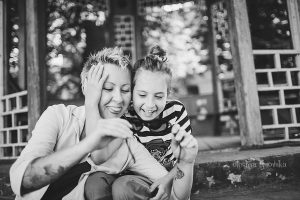 I'm proud that I have always been doing something that I am deeply interested in rather than developing a career in one of the more popular industries. Over the years I worked as an editor, a journalist, an educational consultant and a translator, and I loved all of these experiences. Alongside my career I have also been raising a daughter, who is now 14 years old. It hasn't been the easiest of journeys but it has certainly been very exciting. I am also extremely honoured to have been selected as a Fulbright Scholar, and most recently as a Gates Cambridge Scholar; this support has been and continues to be essential for my work.
What are your plans after you finish your PhD?
I don't believe in the linear career development and find earnest long-term planning somewhat limiting, so I'm very open in my plans. I hope to maintain strong ties to the literary environment and the world of academia, as well as continuing to work in an advising role, which I enjoy immensely. And, of course, I look forward to further expanding my academic and professional geography. In fact, there is quite an intriguing job opportunity in China into which I am currently looking closely. On top of that, I have somehow ended up with three manuscripts of poetry in the making, and these will certainly require some attention in the nearest future. Finally, a year from now I look forward to publishing my first book of poetry in English.
Do you think the FLEX experience has had an impact on your career?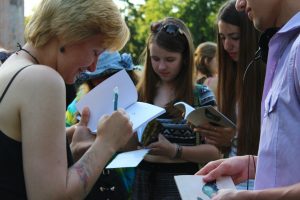 The FLEX year has been crucial for my personal and academic development. It was my first real experience of independence and also an opportunity to explore my own thoughts. We, young people from the former USSR, have rarely had a chance to be alone with ourselves, partially because our families are so tight, partially because our apartments are so small. Meanwhile, in the U.S. I had personal space that inspired self-reflection and analysis. Of course, the experience of living in a different language environment was also crucial to me as a writer, translator and researcher. I think I'm only now beginning to realize the extent and depth of the FLEX program's impact on my life.
What would you like to wish to the FLEX alumni?
Living in the U.S. we were all open to new experiences and this flexibility helped us to succeed during the program. It's incredibly important to stay flexible, open-minded and interested in exploring the new horizons later in life as well. We should continue to develop, learn and strive to succeed in the areas in which we're interested in throughout our lives.
Written by Tatyana Movshevich