To encourage FLEX Alumni from Azerbaijan to share stories about the lessons that they learned from the FLEX exchange, Shabnam Valiyeva '15 (Barda, Azerbaijan/Swansea, IL) came up with the idea of starting FLEXcribo – a FLEX Alumni Essay competition. The contest ran from September 21 – October 5, 2018.
The winners were announced on October 10, 2018 at the Annual U.S. Government Alumni Reception, hosted by the U.S. Embassy in Baku. Three winners were chosen for their amazing stories:   Turan Jabbarli '14 (Baku, Azerbaijan/Oxford, NC), won for writing the most motivating essay.
Turan choose the topic: "If you had the chance to go back in time, what kind of things would you leave the same and what would you change?" Turan would have changed nothing about her year but would have wanted her younger self to have some more encouragement. As such, she wrote a letter to herself: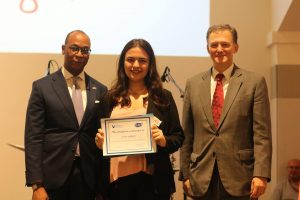 "I am writing to you from five years now. Many things have changed in your life, but in a good way. So many opportunities are coming your way. You have so much knowledge from AP classes that you feel like a genius now. You have so many friends, a second home, and became free in the "Land of Freedom". You don't care about negative talk, you always smile and are staying positive. You helped many people make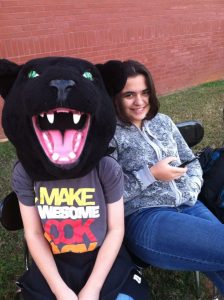 life decisions. When you saw your host family writing a plan for the next year, you were surprised. Now, you teach people how to be professional, organized and good at planning. You still celebrate U.S. holidays, like Thanksgiving, Christmas, and Halloween. You took your first trip to New York with your host family; it made you independent. Now you have traveled across Europe on your own. You have some arguments with your host mother, but try to understand her now, she needs your support and love. This year was the most difficult for her. After a few years, you will meet her again in Barcelona and apologize to her for some silly words you said. She is trying her best for you and she is your first life teacher.
I just want to tell you to appreciate every day of your life, help as many people as you can, respect your culture and community you live in, and be the best version of yourself. I am proud of you!"
The second competition winner, Muzhgan Jafarova '14 (Baku, Azerbaijan/Montpelier, ID), won for writing the most inspiring essay. Muzhgan shared how important it is to never stop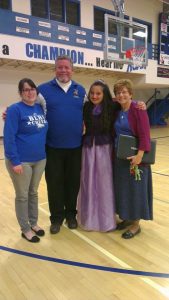 dreaming and always work hard to achieve your goals:
"Since the time I saw that brochure about FLEX on the wall of my school building, I have never stopped dreaming. I put my mind to it like I have never done before about anything and kept working hard for achieving that first huge dream of mine. I was not successful for the first two years of applying for FLEX. I was feeling sad, certainly, but it never felt like I had to stop applying for FLEX, because being a FLEX finalist was not just an "American dream" for me, it was also about preparing myself for the bigger, fearless, and more positive world that I had to face in the next chapters of my life. While I was preparing mentally to be an exchange student in the country of my dreams, I was also building up my personality, my inner world where I was facing never-ending concerns about becoming the person who I wanted to be. It felt like the whole FLEX program was my friend who was teaching me constantly not to be afraid of sharing myself with the world, being open-minded and brave. FLEX itself prepared me for my dream and finally let it happen. "
Lastly, Fidan Valiyeva '11 (Barda, Azerbaijan/Austin, MN) won for writing the most creative essay.For Fidan, FLEX was an experience that helped her to discover herself, to keep on building her personality, and to become the best version of herself.
"It would take long enough to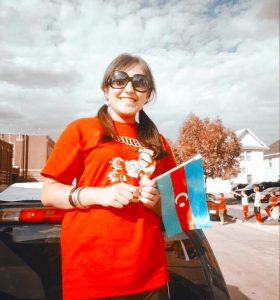 continue describing the academic and professional advantages of FLEX; instead, I would like to write about how it had a big influence on my personality. FLEX taught me that, indeed, life is not about discovering yourself, but creating it. I became the Fidan whom I wanted to become, a strong young lady who has ambitions, who is rebellious, who is truly tolerant and mature; who is sure that no one can stop her from believing in her dreams or ahieving her goals.
It taught me that there is no need to own a big platform to make your voice be heard; there is no need to wait for the right timing to take actions. I perceived that I'm not just an alumna, yet a vox populi of the issues I want to be solved. FLEX turned a true leader of that day into a future leader of tomorrow.
I realized that I am indeed the change I want to see in this world, and I am powerful enough to make this world a better place. It didn't just give me stamps on my passport; it made me a global citizen. And they are right when they say that the best stories are found between the pages of a passport."
Each person has their own unique story. We should reveal that voice inside of us to speak up and share. Share to teach each other and share to help. We need to share to show that no matter how different we are there is so much we have in common as w e go through changes, obtainment of our goals and willingness to change the world for best.
These three stories of FLEX Alumni are among thousands of stories that are just as inspiring. The difference is that these alumnae took the time to share their stories. Thank you!
Written by Sabina Suleymanova '14