Being a pioneer isn't easy- that much has always been true. The lens through which we see our surroundings, a lens often characterized by our experiences in our home country, does not offer the clearest view of other cultures and peoples. For Galya Palieva '94 (Volgograd, Russia/ Batavia, OH), she found it difficult at first to view the United States and her host family through the lens characterized by her childhood in Volgograd, Russia.
It was 1993 and Galya had been selected to take part in the FLEX program, though it wasn't yet known by that name. "Comparing it to travel today, I would say travelling to the United States was comparable to travelling to Mars. I grew up in the Soviet Union and absorbed many of its values." For example, a common saying of Galya's childhood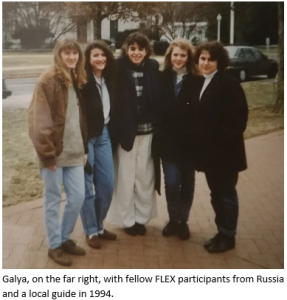 was that 'I' is the last letter of the alphabet, suggesting that she focus on society as a whole rather than the individual. Financial constraints and limited technological availabilities also led to her to be accustomed to a certain way of life: "We could buy only the most necessary items distributed with the food stamps, clothes were often homemade, and vegetables homegrown. We even didn't have a regular telephone at home. Instead, plenty of friends came to our house almost every day for a cup of tea."
"That," says Galya "was the background with which I found myself in the small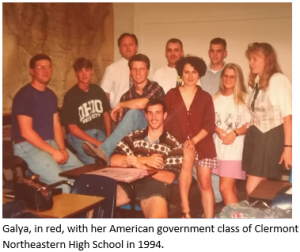 town Owensville in the Cincinnati area. I knew nothing about my host family except for their last name." Reconstruction of the local high school in Owensville had taken longer than expected, and Galya didn't officially start school until the beginning of October. As such, she found herself without a daily schedule for these two months and did not have an easy place to start making friends right away. On top of that, Galya found her idea of hospitality to be characterized by the aforementioned lens. While her host family was trying to incorporate her into their day-to-day routines, Galya was accustomed to a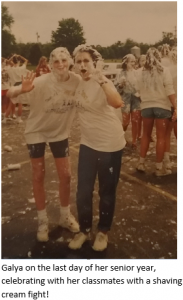 different treatment of guests. "In Russia my family lived in a one-room apartment and we got used to sharing the common space physically and emotionally. If we had a guest at home in Russia, we always gave him or her all of our time, attention, and resources. For example, when relatives or friends arrived for a few days, it was quite common to give them our beds and sleep on the floor ourselves; guests always brought gifts and never left without ones; we cleared our time so we could be with them most of the time taking them to places and making special dinners." Though she understood that life with a host family would be different, she felt "lonely and lost." When her community counselor, Holly started to spend one-on-one time with Galya, got her out of the house, and provided her with a sense of connection, things only got better from there.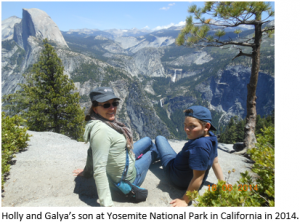 Almost two decade later, Galya was able to restore that sense of connection with Holly, who invited her to come visit her in her new home in San Francisco in 2014. "Twenty years after the exchange program I stepped on American land again – and it was in northern California. I was very excited to take a new look at the U.S. as an adult." Galya returned to the U.S. two years later in 2016, this time bringing her son.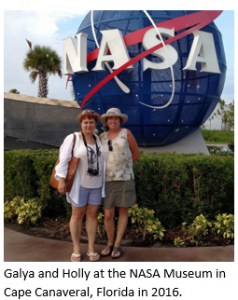 After creating long-lasting friendships through multiple visits to the United States, Galya was able to see the country through a clearer lens. "In my travels I never faced any hostility. I feel that the world is much friendlier than most people think while sitting at home. The cultural exchange that occurs while travelling, when you learn from the new culture and present your own, is extremely important nowadays. Developing strong personal ties, independent blogging and just talking to people and telling them your personal experience is a great method of keeping peace an understanding on earth.  I would say my exchange experience has changed my personality. I learned not to judge but to understand, empathize and search for the common points instead of focusing on the differences."
Today, Galya continues to travel and explore new cultures. While in her hometown of Volgograd, she organizes sightseeing tours for travelers and hosts guests from all over the world. She credits the FLEX program for her continued interest in person-to-person diplomacy and her belief in its ability to have a positive impact on the world.