From January to May 2018, Selbi Veliyeva '16 (Mary, Turkmenistan/ Dinuba, CA) led the Toastmasters International Project at the Mary American Corner (MAC) in Turkmenistan. This was a collaborative effort which brought together FLEX alumni, Undergraduate Cohort Advising (UCA) students, and local volunteers. The main objective of this project was to support participants in the development of leadership, oratory, and overall communication skills.  Activity participants were required to develop five-minute, self-prepared presentations in English.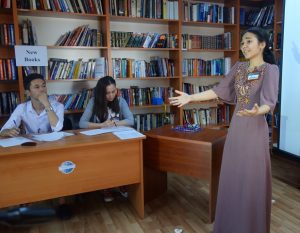 Every month, the four top speakers were selected to participate in a competition. During the course of the Toastmasters project, presenters delivered speeches on the following topics: Confess and then Success; Beauty in Struggles; The Three Meanings of "I was Great!"; The Power of Empathy; How to Waste Time Properly;  The Book that Altered My Behavior;  The Magic of a Single Smile; Why Am I Passionate about Computer Programming;  Why Should People Help Each Other;  Setting Smart Goals;  Luck: Effort or Chance; and Should People Dream Big?
The final competition and closing ceremony of the Toastmasters activity took place on May 12 for 63 visitors at the MAC, where the best speakers of the past four months competed against each other with topics connected to science and technology. The toastmasters shared their personal experience with technology, striving to win the award of "Best Speaker of the MAC". The speeches included topics like The Influence of Video Games on Human Beings' Brains; Are You Ready for the Virtual Reality?; How to Avoid an Electric Shock; and How Tiny Technology Became Life Assistance.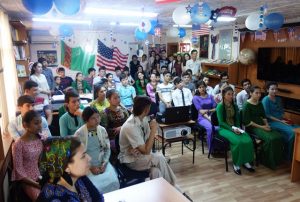 This project supported participants in their quest to become better and more comfortable public speakers.  As a byproduct of the events, participants also shared that they improved their time management, organizational, and language skills.   MAC visitors had the opportunity to learn about Toastmasters International, gained a deeper understanding on speech delivery, were motivated to participate in the MAC public speaking activities, and improved the skills necessary for college study and professional growth. In total, this project included over 330 community members.
  Written by Selbi Veliyeva '16