By Tatyana Malyhina '10 (Turkmenabat, Turkmenistan / Cordell, OK) 
In December 2021, Yelena Gareyeva '08 (Turkmenabat, Turkmenistan / Saginaw, MI), organized an online project on health, lifestyle, and the human body, inspired by the many negative impacts of the COVID-19 pandemic. Throughout the month, alumni initiated and successfully conducted 12 online panel discussions. A final walking challenge served as the project's culminating event. Overall, these programs engaged 52 participants, primarily high school students. 
Prior to the launch of the project, Yelena worked to invite professional doctors and physical instructors to participate. She also prepared for her personal presentations, consulting research from the Harvard School of Public Health, World Health Organization, and Nourish by WebMD.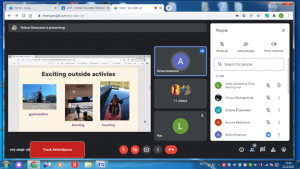 During the first week of the project, Yelena elaborated on healthy habits and healthy eating. She provided information on healthy lifestyle tips and useful mobile apps, and talked about the role of calorie balance, probiotics/prebiotics intake, healthy fats, and proteins in healthy eating. Yelena also shared a helpful table that shows healthy eating habits according to body mass index and height.  
In the second week of the project, Yelena familiarized participants with the benefits of physical activities for the human body. She highlighted the importance of physical exercises and yoga not only for body wellness, but also for mental well-being. Certified yoga instructor Larisa Bulatova conducted a short online yoga session for participants. 
Yelena also conducted lectures on the importance of mental health, self-care tips, advice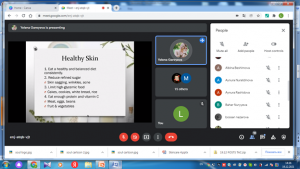 for waking up early, and skincare principles. One of the main pieces of advice given was to drink about three liters of water a day. The project offered many interactive activities, such as Jeopardy, contests, tests, true/false quizzes, vocabulary exercises, and discussion sessions.  
Maral Gabdirashitova, a Study of the U.S. Institutes (SUSI) alumna and a pharmacist, supported the given information with a medical perspective. Maral elaborated on the topic of the human body and the ways it is influenced by a healthy lifestyle. In addition, she made several presentations on the human digestive system and the human brain. 
During the third week of the project, Yelena invited Aziza Umarova '20 (Charjev, Turkmenistan / Baldwin, WI), as a guest speaker to inform attendees about how she witnessed Americans leading a healthy lifestyle in the U.S.  
Aziza drew on personal observation and physical education classes she took in the U.S. to carry out a very interactive and informative session, emphasizing the importance of developing healthy habits to keep body and skin healthy. Aziza also provided information about physical activities that she performed while at a high school in the U.S., listing types of sports she learned during her exchange year and sharing her emotions and impressions from taking part in them. 
Another guest speaker, neurologist Aman Hudayberdiyev, joined the project and talked about the medical importance of maintaining a healthy lifestyle. Vepa Hudayberdiyev, a teacher of English, was also invited as a guest speaker to practice English vocabulary on the topic of healthy lifestyle and human body. Leyla Jumayeva, Turkmenabat American Corner Manager, also served as a guest speaker for the last session of the project. She helped to organize and conduct a very engaging game of Jeopardy. 
The project ended with a walking challenge for the participants that lasted for two weeks. Participants downloaded the Activity Tracker Pedometer, which they then used to track how physically active they were, demonstrating how well they put the healthy lifestyle principles they learned into practice.