The majority of FLEX Alumni note their exchange year as a turning point in their lives, taking lessons and skills learned in the U.S. and returning to their home communities anew with more drive than ever. Many alumni who seek ways to contribute to their community apply for Representative positions. City and University Representatives are the alumni who take on the role of helping their communities develop through service projects such as book clubs, conversation clubs, trainings, and volunteering activities. In Azerbaijan, there are currently two City Representatives and four University Representatives implementing such projects.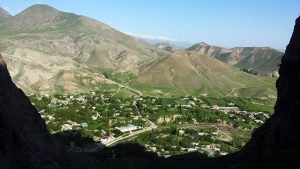 FLEX alumna Nigar Isayeva '14 (Nakhchivan, Azerbaijan, Mercersburg, PA) is the City Representative in her hometown where she is currently studying and working as an English Language teacher at an education center for children. With her experience in education, Nigar wants to organize a class dedicated to training adults to help them broaden their global outlook and develop professionally. On December 17, Nigar organized a program called "People Educating People," where the students researched and shared information about China, Japan, Germany, and Spain.  Nigar comments that, "The project was successful and the participants appreciated the opportunity to communicate with their peers and learn about different countries, all the while, developing their English language skills."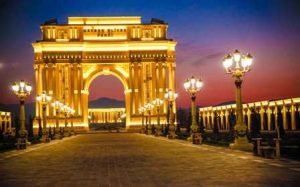 City Representative, Nigar Aghayeva '17 (Ganja, Azerbaijan/ Stagecoach, NV)  volunteered with the children of her town, and because she enjoys reading launched a  bi-weekly book clubs for children at Ganja American Corner.  "Books are great resources and an easy way for children to  develop. It is my goal to make book lovers out of the members of my book club," says Nigar.
As an animal lover, University Representative, Javidan Alayi '17 (Baku, Azerbaijan/ Visalia, CA) chose to implement an animal-focused project. On January 31, he will visit the Animal Rescue Center in Baku to volunteer. In preparation for the visit Javidan collected donations of blankets and animal food.  "Animals, they can feel coldness and hunger just like people. If we can make the world a better place by taking small initiatives, why not start with animals?"- Javidan Alayi '17.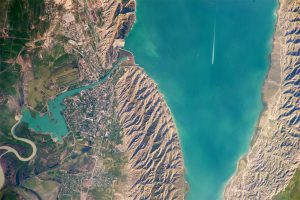 University Representative Tinatin Hasanova '17 (Mingechevir, Azerbaijan/ Burleson, TX) is also planning a January activity. Tinatin has always been interested in learning about the inner world of persons with hearing and speaking disabilities; therefore, she decided to learn sign language. Tinatin says … "I took sign language classes in the U.S. during my exchange year. It was very interesting to learn to speak with my hands and through body language. After returning to Azerbaijan, I wanted to compare the Azerbaijani and English sign languages. I always had thought that it would be similar, but it is completely different." While Tinatin is learning, she is going to offer a basic sign language course, open to the community, on January 31.  She reflects, "I once had the opportunity to communicate in sign language with two strangers I met at the mall. I could feel the happiness and excitement they exuded upon being communicated with in their language, and it was definitely one of the best feelings I have ever felt. I think everyone should try to learn at least the basics of sign language."
Written by Tinatin Hasanova '17