"When I told my parents that I might end up becoming a finalist of the FLEX program and spend a year in the US, they could not help laughing!"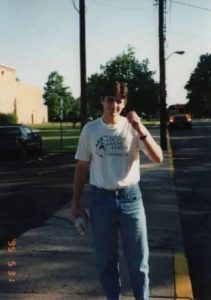 In 1994 I became a FLEX participant. It was one of the first years of the program's existence and the competition was fierce: around 75 people vying for each spot. When I told my parents that I might end up being a finalist of the FLEX program and spend a year in the USA, they could not help laughing: "Yes, boy. Go and play" – they said. My mom and dad were certain that only kids from rich families could win such contests; but I believed in myself and I kept going. I'll never forget the final interview, when a lady asked me what question I'd ask a famous person, living or dead. "I'd ask Columbus whether he even realizes what a wonderful place he found!" – I said, and I guess that was the trigger. The lady contentedly wrote something in her notebook, and in several months I received a call from the American Councils confirming my acceptance. My parents were shocked; suddenly they saw that my personal efforts could have big results.
"FLEX shaped me as a person, as a professional, as a father and husband, and as a human being."
I came back from the U.S. a different person, full of ideas and hungry for information. During a different exchange program, I worked in a golf club as an unofficial caddie, and it was the first time I ever made my own money. It helped me to realize that in order to get the reward, you have to make a commitment and take responsibility. After coming back to Ukraine I worked in various advertising agencies for 15 years and in 2010 I started my own business: Pepelatz Production, an advertising production company. FLEX guided my life's path: it shaped me as a person, as a professional, as father and husband, and as a human being.
"Billions of people at this very moment are talking about great ideas, but that's just empty chatter."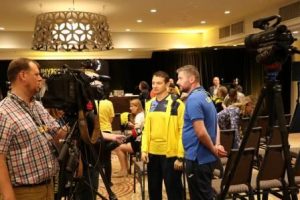 I would never imagine myself being involved in anything like the Invictus Games. I haven't been in the army, and none of my relatives or friends was either. It all started in London, where I was on a business trip and I paid attention to advertisements promoting the Games. I became consumed with the idea of Ukrainian veterans participating in the Games.
For those who do not know, the Invictus Games is an international adaptive multi-sport event, created by Prince Harry, in which wounded, injured or sick armed services personnel and their associated veterans take part in sports.  Named after Invictus, Latin for "unconquered" or "undefeated", the event was inspired by the Warrior Games, a similar event held in the United States.
It took a couple of years to get the ball rolling on this idea; I knocked on several doors trying to disseminate information. At one point I became frustrated and was about to give up. The idea of quitting bothered me, so I kept going. I knew I had no option other than to get to the finish line. What eventually got me there was finding the right partners.
Ivanna Klympush-Tsintsadze, Vice Prime Minister of Ukraine, became an advocate of the project from the government side and was in charge of communication with the ministries. Alina Frolova and Oksana Gorbach from StratCom were also essential to the outcome of the project.  Oksana managed all the correspondence between the government and the organizing committee. The work was hard, but our efforts finally paid off and in September 2016 Ukraine was accepted as a country participant to the Invictus Games.
"Many of the athletes admitted that the games had given them a purpose to live."
Every single day more and more veterans return from war facing psychological issues, and sports are a great way for them to re-integrate back into society. After the competition, many athletes admitted that the Games had given them a purpose to live. One of the participants now plans to open a sports club for veterans. Though the Games gave light to some of the issues faced by veterans, Ukrainians are still working to find ways to deal with issues involving veterans despite a lack of institutional support.
"All you need to do is squeeze your schedule a bit"
What I discovered during recent years is that we are all capable of doing things outside of work.  What you need is to squeeze your schedule a bit. Now I am also working on another project – comic books about fighting corruption. Together with my team we have already created 10 issues and are planning to compile them into a book. If the Kickstarter campaign is successful, we'll publish it. It's an experiment and we'll see how it works.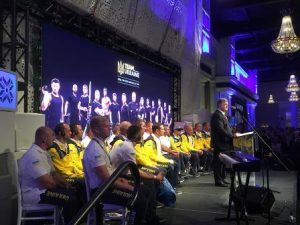 Right now I'm also considering what I want my role to be in the Invictus Games. It is finally established, now is there anything I can bring to the table?
I have two more projects essential to my life: my two daughters. I hope that my girls will become a better version of my wife and me and, of course, themselves. We will give them as much as we can to help them realize their potential.
You can reach Mikhail (Misha) at: mikhail.pimenov@pepelatzproduction.com to share your ideas and business plans, or to seek cooperation, partnerships, or mentorship.
Written by Mariya Vasylyeva '12