'There is so much potential in Ukraine if you look for it'
Roman Tychkivskyy '05
Rohatyn, Ukraine/Wichita, KS
Education: Degree in Economics from the Kyiv-Mohyla Academy and MSc in Economics from the Barcelona Graduate School of Economics
You work as a Manager of the Economic Leadership Program at the Western NIS Enterprise Fund (WNISEF). What did you do before joining the fund?
My journey to WNISEF was long and interesting. After finishing the Kyiv-Mohyla Academy I received a Master's in Economics from the Barcelona Graduate School of Economics, took part in the Canada-Ukraine Parliamentary program and worked for a few projects in the field of science and business in Ukraine. When the Euromaidan movement started, I decided to quit my current job and join the protests. At the time I worked as a business development specialist at the biggest chain of creative restaurants called '!FEST' and, despite really enjoying the job, I felt that I needed to be with activists on the street.
What were the main highlights at Euromaidan for you?
Together with students and alumni of the Kyiv-Mohyla Academy and other activists I set up a coordination center and co-established an educational platform. We wanted to give people a chance to learn and develop while being on the street. Our platform was also a space where people could express their opinions. In the course of two and a half months we organized nearly 300 lectures, all of which were given by top scholars, artists, civil activists, and business people.  Surprisingly, the audience consisted mostly of people from small villages rather than students.
Did Euromaidan have an impact on your career?
It did. During Euromaidan, a new social contract was constructed, the class barriers were destroyed and people felt more equal to one another. Big business owners and politicians were no longer members of higher caste; they were just ordinary people with opinions. For example, the CEO of Microsoft Ukraine Dmytro Shymkiv, who is now a Deputy Head of the Presidential Administration, shoveled snow alongside students and protesters. Euromaidan inspired me to contribute to society by joining WNISEF.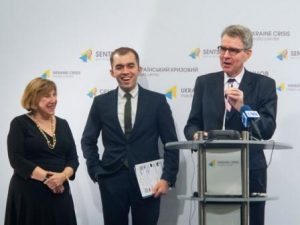 How did your career develop there?
At the time, the head of WNISEF was Natalie Jaresko, who later served as Ukraine's Minister of Finance until April 2016. During our first meeting she told me that in order to develop Ukraine we needed to invest in people and to enable them to develop their talent. So we set up the SEED Grant program, which provides financial support to bright Ukrainian and Moldovan university graduates who are admitted to top MBA courses in the US. Last year we awarded five scholarships of $100,000 and are planning to extend our funding to 40 scholarships by 2018. We believe that by giving Ukrainian students access to high-quality education abroad we are investing in the future of our country.
Last year you also created the Ukrainian Leadership Academy (ULA). Why did you decide to develop this project?
The Ukrainian Leadership Academy is my number one priority at the moment. The idea came about when I analyzed the current state of affairs in Ukraine. After Euromaidan we suffered from a shortage of young professionals willing to join government or NGO sectors to fix the corrupt system from within. During Euromaidan, many young people were inspired to dedicate their energy and passion to the cause, but later their motivation subsided and few were ready to bring systematic and sustainable changes to the state.  Furthermore, through research, I found that the majority of high school graduates make their career choice without much consideration and nearly 80 percent of university graduates in Ukraine never work in a professional field related to their degree. This happens because university courses in Ukraine are so specialized that young people are forced to choose their career path immediately after high school. As a result, even after receiving their degrees students are still uncertain of their own strengths and future.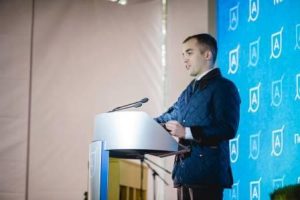 '
Thanks to the FLEX program, many of my peers and I had a different experience.  This program made us more confident and gave us the opportunity to think critically about our future before making lasting decisions about the degrees we wished to pursue. I told the WNISEF team about my FLEX experience and we researched similar programs in Israel and the United Kingdom. We eventually decided to found an Academy where high school graduates could learn more about themselves and their society, study, and engage in community service before pursuing a university degree. In other words, we created the Ukrainian Leadership Academy to serve as a meaningful gap year for bright and motivated young people.
How did you promote the project among students?
It took us a few months to get the idea off the ground. At first we hosted working groups and invited Ukraine's top thinkers to help us develop the concept. One of our most notable participants was Slava Vakarchuk, a lead singer from the well-known Ukrainian band 'Okean Elzi'. In May 2015 we brought the idea to high schools all over Ukraine and invited senior students to apply to the program. Nearly 400 students expressed interest and after three rounds of selection, we chose 40 participants.  (More photos from the opening ceremony of the ULA can be found here).
Can you say a few words about the Academy's work?
It aims to develop young leaders by enhancing their social and physical skills and deepening their knowledge of a range of subjects. It also teaches them how to be good citizens of their country. Our students start the day with physical exercise, such as yoga or jogging, after which they study, volunteer and partake in team-building activities. We also travel throughout the country, as we want to show Ukraine's beauty and its challenges to our students. There is so much potential in Ukraine if you look for it – and it needs young talented people to flourish and tackle its uncertainties. The program lasts for a year and afterwards the students will define their own paths – some will go to universities, others will volunteer, work, or join the military. We are planning to actively work with the Academy's alumni for the first six years in order to build the alumni community and monitor their progress.
What is your message to the FLEX alumni community?
The FLEX program made me more confident, optimistic, and committed and gave me important skills that made a big impact on my career and world view. Let's all stay devoted to the FLEX values and promote them through our work wherever we are. Together we are stronger.