Nemanja Ostojic '12
Kotor, Montenegro/Urbandale, Iowa
Education: Department of Economics at the University of Montenegro
'The more I do, the better organized I am. When I returned from the U.S., I immediately became involved in the FLEX alumni community and now I can't imagine my life without these projects and the FLEX community,' says FLEX Alumni Coordinator and the board member of the Montenegrin American Youth Alumni Association (MAYAA), Nemanja Ostojic '12.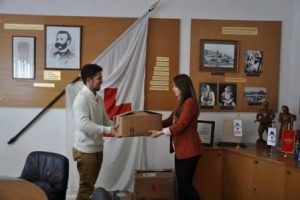 Together with other FLEX alumni he conducts various projects dedicated to youth employment, human rights, gender empowerment, and leadership. Even though the FLEX program in Montenegro is relatively young, the alumni community has already established many successful initiatives. One of which is the annual Global Youth Service Day food bank initiative, organized in partnership with the Food Bank Montenegro.
'In 2016 we raised about 1000 euros and four tons of food for local families in need. Having a trusted and well-known partner means that companies are eager to help. As a part of this project, alumni installed a big box in the middle of Podgorica's Delta City shopping mall where people could donate clothes,' says the alumnus.
'The FLEX alumni community in Montenegro is extremely active. Last year, for example, we conducted over 50 projects on a range of topics. Everyone juggles studies, work, and social projects with their personal life and we often joke about how little time we have for sleep. But it's so much fun to be a part of this community,' he adds.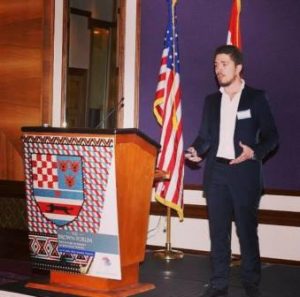 Writte
Working with alumni is not Nemanja's only responsibility.  Now in his final year as an Economics student, he is creating a new digital platform to help people interested in getting advice from various perspectives.
'Usually if you have an argument with your girlfriend or a family member, you ask your friends for their opinion. But if you post your story on our website, lots of readers can provide you their advice and possible solutions absolutely for free. The person who submits can choose which advice to follow, but the best opinion will be decided based on people's votes – which, hopefully will be the right one,' says Nemanja.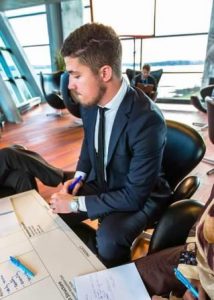 The FLEX alumnus has been working on this idea for the last two years and recently received financial support from the Investment Fund of Montenegro. Now the website is in the final stage of its development and will be launched by the end of this year. Once the platform is up and running, Nemanja plans to work on new ideas for other online spaces where people can support each other remotely.
Nemanja's interest in social entrepreneurship is not completely new.  In 2016, Nemanja was chosen as one of South East Europe's top 100 Youth Leaders.  Invited to the award's summit, the Summit 100 in Belgrade, Serbia, he learned from many of his peers about their trials, tribulations, and experiences as social entrepreneurs.  The experience strengthened his determination to become a successful entrepreneur in the sphere of technology and continue with his digital start-ups.
'If my business is successful, I'll be able to provide employment opportunities to young people in Montenegro. The problem of unemployment is very acute here, particularly in the north. I'd like to do something about it,' he notes.  Nemanja is also planning to set up an alumni mentorship program through which successful alumni can share their professional experiences with their mentees. Such programs already exist in FLEX alumni communities in Armenia, Georgia, and Russia and the alumnus is eager to introduce the initiative in his country as well.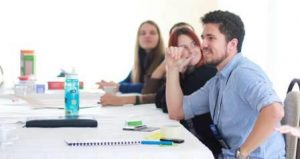 Nemanja's advice to FLEX alumni:  Never lose your American-era enthusiasm: 'Don't be afraid to step out of your comfort zone and don't be stressed about the things that you cannot fix. Just do your best, learn from each experience, and something valuable will come out of your efforts'.
Written by Tatyana Movshevich