Starting on September 5, FLEX alumni launched the weekly Talking Club in partnership with the American Corner in Bishkek, Kyrgyzstan. Talking Club is a place where community members can improve their speaking and leadership skills and shape their perspectives on certain topics through meaningful conversations. Additionally, Talking Club allows students to work in groups, providing an opportunity to see a topic from a different perspective while openly expressing themselves and their points of view about the topic in English!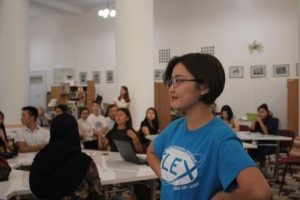 Talking to different people provides the participants with an opportunity to look at a topic in a more creative way; and discussing sensitive topics helps participants to become more empathic.  Through the club, participants have also become friends, making the space a networking event for people from many different walks of life.  For example, attendees include active citizens, graduates of the university, and students looking for some new opportunities.
Through this project, alumni and participants of Talking Club have debated important topics such as school uniforms, bride kidnapping, the structure of educational systems in Kyrgyzstan, stereotypes about the U.S., and the importance of volunteering. During these lessons, students have showed great interest in the topics and problems of civic importance.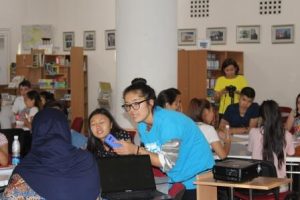 FLEX alumni, aside from leading the club meetings are also taking on training roles.  Club leader, Meerim Imarbekova '17 (Bishkek, Kyrgyzstan/ Redmond, OR)  , led a session onpreparing for tests such as TOEFL, SAT/ACT, and IELTS. Cholpon Bolotova' 17 (Jalalabad, Kyrgyzstan/Greenbelt, MD) shared, "The best thing about leading the Talking Club is seeing how people are breaking through their personal barrier walls. Some of our participants weren't speaking at all in our first lessons, but then they eventually started to express their feelings and share their thoughts more openly."  Akmaral Akimbaieva'17 (Kyzyl Kiya, Kyrgyzstan/Kingsburg, CA) agrees: "Just recently, one participant came up to me and said that he enjoyed Talking Club, but it was very hard for him to reply to our questions or simply keep up with us during the group talking. I had a talk with him and figured out the main root of the problem. I felt honored to be a representative of this project because Talking Club not only helps participants feel more comfortable speaking English,  but it also goes deeper and helps them solve personal problems."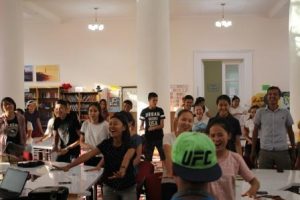 Thank you to the following alumni who make this project happen: Akmaral Akimbaeva '17, Aikumush Akylbekova '17, Eldos Atalov '17, Cholpon Bolotova '17,  Meerim Imarbekova '17, Meerim Kubatova '17, Begimay Kudayberdieva '17, Akbermet Ulanbek kyzy '17, and Omurbek Zukhrap uulu '17.
Written by FLEX Alumni Coordinator in Kyrgyzstan Malike Alenova '15.