Over 80 alumni from all over Russia gathered for the traditional annual FLEX Alumni reunion on September 9th at a modern loft space in the heart of Moscow.  The reunion included opportunities to network and attend unique professional development seminars.
FLEX A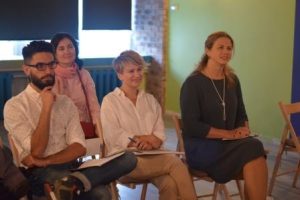 lumni from Russia were welcomed by their Alumni Coordinator, who shared information about the FLEX Alumni Russia Mentoring Program and other opportunities for U.S.-Government alumni in Russia. Mentors and Mentees from different cycles of the FLEX Alumni Russia Mentoring Program gave presentations on their experiences and the milestones they achieved within the program.
Margarita Osadchaya '07 (Kumertau, Russia/ Deer Park, WA) – coach, art-therapist, and psychologist, held a Business Storytelling session through which she discussed, "How to write inspiring stories". During the training, alumni learned how to write compelling, captivating, and inspiring stories that would lead to personal and professional victories.  According to Osadchaya, "The ability to tell a story is a necessary skill in any sphere of work, from motherhood to marketing. Storytelling allows a person to convey information to listeners, and avoid criticism, rejection or misunderstanding."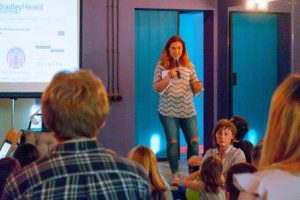 Meanwhile, those who didn't wish to attend seminars entertained themselves by taking the
"Hawaii Quiz" and writing warm wishes to their American host families on the provided #ThankYouFlex postcards, created for FLEX Appreciation Day.
Asya Soskova '96 (Odintsovo, Russia/ Dayton, OH), Professional Coach and Talent Optimization Specialist, lead an introductory course on embodiment principles and techniques. Alumni learned what "body intelligence" is and why it is important, as well as typical reactions to stress and simple techniques for stress relief.
Next, Iya Tikhomirova '11 (Moscow,Russia/ Healdton, OK) held an art class where alumni created "I love FLEX" posters and scrap books, while learning drawing techniques and more.
The networking evening ended with joy and laughter as FLEX showed off their flexibility with a game of limbo.
Written by FLEX Alumni Coordinator in Russia Mariya Shishkina '07.