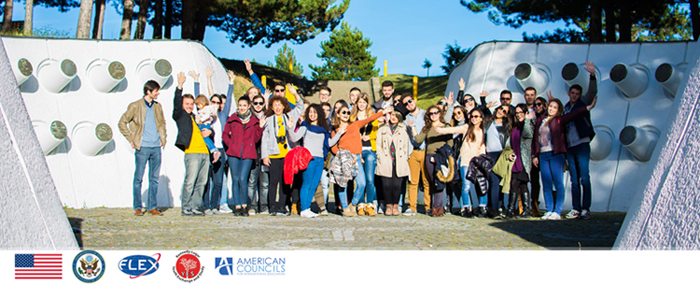 Event Title: The IDEAL Workshop

Event Dates: August 3-6, 2017

Training Dates: August 1-2, 2017

Link to Application: https://flexalumniprogram.submittable.com/submit/84310/mentor-application-the-ideal-workshop

Mentor Application Deadline: May 10, 2017
INTRODUCTION
American Councils for International Education is seeking experienced trainers in the fields of anti-corruption, civil society, human rights and gender equality, and utilizing the arts as tools for social change to serve as mentors for the IDEAL Workshop for FLEX and YES Alumni in Southeast Europe.  The event will take place in Cetinje, Montenegro, August 3-6, 2017, preceded by a mandatory Mentor Training on August 1-2.  Accommodation and travel costs are fully covered by the program.  In addition, each mentor will receive a symbolic engagement fee of $300 for their role in the workshop.
PROGRAM OVERVIEW
Through the IDEAL Workshop, 51 FLEX and YES alumni from Southeast Europe will learn to identify challenges facing their communities; develop a better understanding of these challenges, including their root causes and possible solutions; establish plans for addressing the challenges identified in the communities in which they live; act on these plans; and ultimately lead by example.  The four-day program aims to build cross-border relationships and promote regional cooperation while preparing participants to combat corruption, build civil society, support human rights and gender equality, or utilize the arts as tools for social change.  Participants will be divided into four groups focused on one of these theme areas, with each group led by a pair of experienced mentors who are themselves alumni of U.S. Government-sponsored exchange programs or current Peace Corps volunteers in the region.  Following the workshop, each participant will be required to hold at least one activity that expands the impact of the program to their home communities, with support of up to $250 in grant funding.
ELIGIBILITY AND POSITION REQUIREMENTS
IDEAL Workshop mentors will work in pairs to lead small groups of approximately 12 alumni of the FLEX and YES program in Southeast Europe in a series of theme trainings, site visits, and community education programs. Mentors will be responsible for developing the curriculum for their theme group prior to the start of the workshop, with guidance and support from American Councils staff.  In addition to planning and implementing theme trainings, mentors will also be responsible for supporting trainings in project design and management led by American Councils staff. All activities will be conducted in English.
In order to be considered for a mentoring position, a candidate must:
– Be an alumna/us of a U.S. Government-sponsored exchange program, such as FLEX or YES, or a current Peace Corps Volunteer
– Be from, or currently reside in, one of the participating countries: Albania, Bosnia and Herzegovina, Bulgaria, Kosova, Macedonia, Montenegro, or Serbia
– Have demonstrable training, expertise, and experience in one of the workshop theme areas: anti-corruption, civil society, human rights and gender equality, or utilizing the arts as tools for social change
– Have past teaching or training experience and the ability to develop a training curriculum in the designated theme area
– Have exceptional English language skills
– Be available to attend and actively participate in both the workshop and pre-workshop training in Cetinje for the entire period August 1-6, 2017
– Be available to meet virtually with American Councils no less than once a month during the months of May, June, and July
APPLICATION GUIDELINES AND SELECTION PROCEDURE
Mentors will be selected by a panel of evaluators based on application materials, interviews, and professional background and experience.  Interested candidates must complete and submit the online application, including all supporting documents requested, by May 10, 2017, 11:59 PM CET.  Candidates who are selected for interviews will be notified by May 15, and interviews will be conducted in the period May 16-25.  Only those candidates selected for interviews will be notified.
For questions, please contact Rebecca Strattan at rebecca@americancouncilssee.org.