Have you ever thought your neighborhood playground would be nicer if it was cleaner? Or that the schoolyard would be much more enjoyable if it weren't for all the litter? FLEX alumni in Serbia have had these thoughts—and decided to do something about it!
With the help of Alumni Coordinator Nikola Brkljac '17 (Pancevo, Serbia / Austin, TX), alumni in Serbia organized cleanups in their communities. Cleanups involve putting on gloves, putting on masks, buying trash bags, picking up litter from places where it shouldn't be, and then properly disposing of it.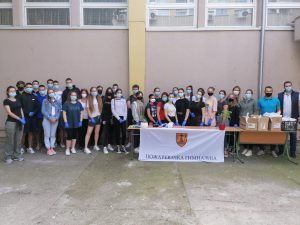 The first step was registering cities where the clean-ups would be happening, allowing members of those communities and local groups such as schools or NGOs to learn about the events and also take part. Next, specific locations needed to be determined, such as local parks, river banks, or residential neighborhoods. Jana Jacic '08 (Pozarevac, Serbia / Williamsburg, OH), who teaches English at a high school in eastern Serbia, managed to motivate her class of 34 students to clean up their school yard. Initially, the alumni planned for cleanups to take place in one or two cities, but in the end, ten alumni and more than 100 volunteers in seven cities decided to participate, collecting more than 45 bags of garbage.
These activities were inspired by World Cleanup Day, an annual celebration on September 18 that aims to motivate volunteers to clean up their communities. World Clean Up Day is the initiative of the global civic organization Let's Do It World. Participants used their social media platforms to spread awareness about the importance of staying eco-friendly, and keeping our communities clean, using the hashtag #worldcleanupday.