ZoomSupport is eager to help the FLEX program by offering technical support for host families of current students or alumni of the FLEX program FOR FREE!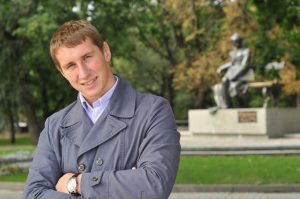 Mykola Tymkiv '08
Kalush, Ukraine / Middleton, Idaho
Education: BA in Sociology from the National University of Kyiv-Mohyla Academy
ZoomSupport is a remote and 24/7 technical support service, which is fast, secure, and highly professional. It is owned by the technology-focused venture fund ZEO Alliance. Mykola Tymkiv '08 started the company in May 2014 by hiring FLEX alumni and quickly turned an idea into international and profitable business. Now ZoomSupport is eager to help the FLEX program by offering technical support for host families of current students or alumni of the FLEX program FOR FREE! If you are a current or past host family for the FLEX program and you need help with repairs or maintenance of your computer, get in touch with ZoomSupport via nick@zoomsupport.com.
Now back to the interview with Mykola!
Can you describe the development of the company?
At the very beginning we rented an office space measuring 50 sq meters. It wasn't fancy at all – we had old furniture and cheap computers. Dmytro Naumov and I did everything for the office, including restocking the office water cooler. But I knew that we'd make something of it in the end and didn't mind the temporary inconveniences. The first people we hired were excellent and the company began to grow. Five months later we had 200 employees – 10% of them were FLEX alumni.  One alumnus, Andriy Lushpak '09, showed such great performance and motivation that we asked him to open ZoomSupport's second office in Ivano-Frankivsk. Andriy was successful and soon more new offices appeared on the map. Now we have five offices with 800 employees in Western and Central Ukraine.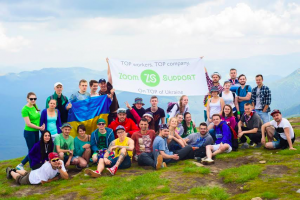 Does ZoomSupport provide any technical training to its staff?
It does! Since we are eligible to conduct Apple Certification ourselves, we train our staff to become Apple Certified Mac Technicians (ACMT). Every month we certify about ten technicians and at the moment we have 38 ACMTs working in the company.  Also, we enhance a certain set of values in the company, such as team unity, and customer and success orientation. That's why finding people like FLEXers is so important. We are trying to inspire everyone to be creative, go the extra mile to help people – and I think our customers appreciate it.
Did the FLEX experience have an impact on your career?
While studying in the U.S. as a FLEX student, I was amazed to see how well the service sector worked and how dedicated people were to their jobs. When I came back to Ukraine, I was astonished to see how much worse the quality of services was in my country, whether it was IT or healthcare, but even more – how accustomed people in the post-Soviet world were to this level of service.  I decided to contribute to the change and seized the opportunity when it came about. At ZoomSupport we want to contribute to the development of a new digital and customer service culture in Ukraine and it looks like we are succeeding.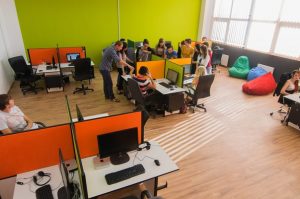 What are your current responsibilities?
My responsibilities are primarily managerial, but over the years I have built experience in software and product development and process optimization.  I'm involved in all aspects of ZoomSupport's work – I try to be as useful to my staff as I possibly can. I am also defining our long-term business priorities and vision. For example, now we are thinking of diversifying our services and performing a range of new functions.  Being ZoomSupport's COO is a dream job for me, and I'm thrilled to work with so many talented people.
Do you have a message to your fellow FLEX alumni?
Many of us experienced culture shock upon returning to our home countries. As unpleasant as it was, this culture shock was a message to our brain to bring about the change that we wanted to see in our society. Instead of dividing the world into the categories of first, second, and third, let's make it a better place to live altogether!  ZoomSupport is one of the places where you can start changing the world. If you are interested in joining our team, send your CV to nick@zoomsupport.com
 Interview compiled by Tatyana Movshevich