Emil Hasanzade '15
Project Location: Baku and Ganja, Azerbaijan
Project of the South Caucasus FLEX-Ability Workshop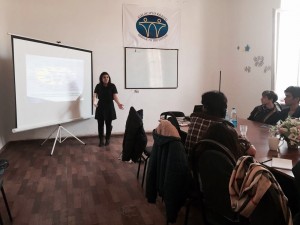 On February 13 and March 5, Emil Hasanzade '15 conducted two social media trainings for 20 young people in Baku and Ganja, Azerbaijan. The trainings took place at the American Councils and 'The Bridge to the Future' NGO offices accordingly.
The aim of the project was to teach the participants how to safely and successfully use social media for professional and social purposes. The FLEX alumnus highlighted most common social media issues, such as privacy risks and cyberbullying, and provided solutions based on the examples from Facebook, Instagram, YouTube and Gmail.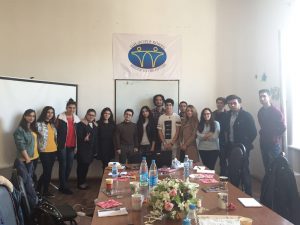 'I wanted to make people more aware of possible social media threats and show them how to use social networks to their benefit,' says Emil.
In his presentation the FLEX alumnus used social media statistics and a YouTube video about online safety.
'The SCFAW helped me to conduct this training professionally and efficiently. It also made me realize how important communication skills are for a trainer and gave me an opportunity to enhance mine,' he adds.