Nazrin Agharzayeva '13, Emil Hasanzada '15, Sabina Osmanli '14 and Israil Alakbarov '15
Project Location: Baku, Azerbaijan
Project of the South Caucasus FLEX-Ability Workshop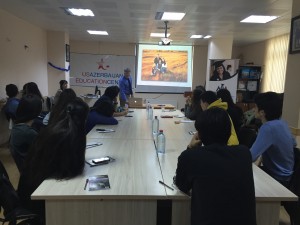 On January 22, Nazrin Agharzayeva '13 together with Emil Hasanzada '15, Sabina Osmanli '14 and Israil Alakbarov '15 conducted a training on the topic of social media and video editing for 12 high school and university students in Baku, Azerbaijan. To attract applicants, the FLEX alumni created an online application form and advertised the training on Facebook. After the selected applicants confirmed their participation by phone, they received an official invitation to the event via email.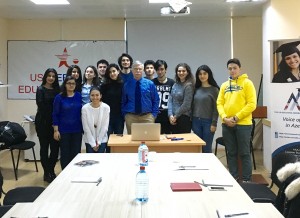 The project took place at the Caspian Business Center. The Azerbaijan Alumni Association provided the venue and equipment for the presentation.
Over the course of the event participants learned how to use social media for freelance work, received knowledge about photo and video-editing and about publishing content online. The guest speaker, American photographer Jim Turner, shared his professional experience with the students and gave them advice on how to develop a photography career.
Afterwards the participants discussed various social media content ideas and skills they had received in groups and created posters and presentations. At the end of the training students received certificates and were encouraged to conduct follow-up social media trainings in their schools and universities.