Project Organizer: Eldiiar Amankulov '15 Event Location: Bishkek, Kyrgyzstan $346 in FLEX Alumni GYSD Matching Grant Funding $400 cost share from: the Kamkorduk Academic Center
On April 17, Eldiiar Amankulov '15 together with seven other FLEX alumni organized the 5 km 'Just Start with Yourself' to promote healthy living and raise money for children with autism.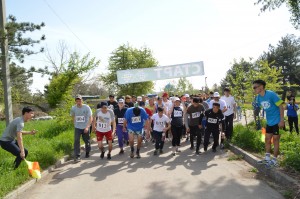 The FLEX alumni attracted participants by sharing information about the event on social media and by promoting the event in universities. The project partner, the Kamkorduk Academic Center supported the run financially and provided through volunteers.
In total 120 people participated in the event that took place in the Botanical Garden of Bishkek. 'The run went really well and people really enjoyed being involved in the event as organizers and participants,' says Eldiiar. The money fundraised at the event was donated to the NGO Hand in Hand, which campaigns for empowerment of children and adults with disabilities.