Project Organizer: Aidai Amankulova '14 Event Location: Talas, Kyrgyzstan $183 in FLEX Alumni GYSD Matching Grant Funding $200 cost share from: the American Corner in Talas,  guest speakers, FLEX alumni  
To motivate young people to organize and take part in extracurricular activities Aidai Amankulova '14, Islambek Ashyraliev '15, and Altynai Ermenbaeva '15 implemented a two-day training for 40 high school students in Talas. The project took place on April 16-17 and was supported by the American Corner in Talas, which hosted the event.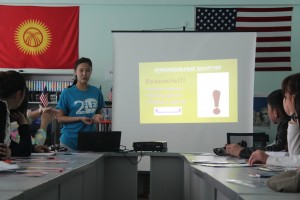 On the first day of the training, participants cleaned up the main public areas of the city, including the stadium, the park and the city center. 'As the day progressed, more and more young people joined us as volunteers. It was amazing to see how hard-working and engaged every student was. We cleaned up the entire center,' says Aidai.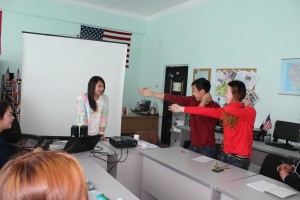 The second day was dedicated to discussing various extracurricular activities and learning the principles of debating. Peace Corps volunteer Thomas Leary and FLEX alumni gave speeches about debating, public speaking, and extracurricular activities in the U.S. After plenary sessions the students had a chance to put their knowledge into practice by holding a debate. Every participating team received a present and all the students were awarded with certificates.
Seeing how much fun debating is, the participants decided to set up a debate club in Talas.