Nino Zurabishvili '97
Gori, Georgia / Federal Way, WA
Education: Law Degree from Tbilisi State University, specialization in Criminal law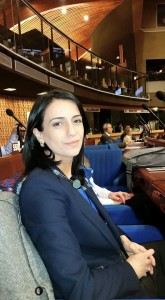 This interview was compiled in February 2016. Nino Zurabishvili has since left her position in the Gori City Council and is now planning to get involved in other projects. She is still a member of the political party 'Georgian dream – Democratic Georgia'.
Even though Nino Zurabishivli studied in the U.S. twenty years ago, the lessons she learned during her FLEX year are still relevant in her career. For the last two and a half year Nino has been the head of the 'Georgian dream – Democratic Georgia' Political Party in Gori and the Vice Chairman of the Gori City Council.
'The FLEX program made me discover the world with its many different opportunities. I learned how to be open minded and accept other people even if I disagree with their values,' notes the FLEX alumna.
Her professional success, however, is not the only source of her pride. 'Now I have another huge reason to be thankful to American Councils and the U.S. Department of State. Last year my daughter Salome Kechkhuashvili was selected as a FLEX finalist and is currently taking part in a FLEX exchange year in Texas,' says Nino. 'I told my daughter so much about my FLEX year and now she has a chance to experience it herself! She says that she loves her life in Texas, especially her high school. I couldn't be more proud and happy'.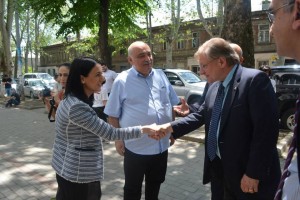 Juggling the City Council work with the Party responsibilities and family life is not easy. From 9 am until 6 pm Nino is busy with City Council duties, in the evening she holds Party meetings and activities. After the working day is over she rushes home to her family. 'I have two more children besides Salome and it's important to dedicate time to them every day. Twenty-four hours is definitely not enough time to do everything,' says Nino.
Nino joined the Georgian Dream Political Party in 2013 since the party's internal and foreign policies matched her values: 'The party is based on the democratic principles. We see our country as a member of the European society and we are focused on solving social issues within the country'. The following year she ran and won in the local elections.
Nino's main responsibilities in the Gori City Council are identifying and solving local problems within the limits of the city's budget: 'We try to fill in the blank spaces, which are not completely covered by the central government, tackle regional issues and still keep some money aside for helping vulnerable members of the community. But achieving all of it on a small budget is nearly impossible'.
Processing individual complaints and requests is a big part of the job and Nino dedicates at least one day a week to meeting local residents. 'I try to set a specific day for meetings every week, but oftentimes, people need my help urgently and I don't refuse them. Unemployment is very high in Georgia and there are a lot of struggling families in our region'.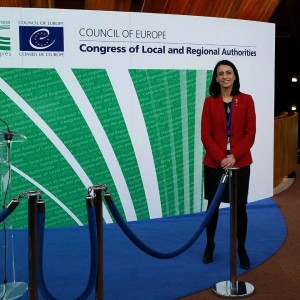 On top of her other duties, Nino is a member of Georgia's delegation to the Council of Europe (CoE) and of the National Association of Local Authorities of Georgia which is centered on successful self-government. Nino attends the CoE sessions in Strasbourg twice a year and doesn't miss a chance to take part in the election observation missions. Learning from the experience of her European colleagues is one of Nino's professional highlights. 'I'm interested in finding out how similar problems are tackled in Europe and would like to bring new knowledge and good practices back to Georgia'.
Despite crazy hours, budget limitations and daily frustrations Nino loves the work that she is doing: 'Sometimes you get results, sometimes you don't, either way you do your best. We are not the ones who decide what to do; we are guided by people's choices and demands. Communicating with people is the hardest part of my job and it's also the most interesting and meaningful'.
Prior to her involvement in politics Nino worked as a lawyer at the Ministry of Environmental Protection and Natural Resources. In this position she monitored the local projects and tracked down violations of law.
Twenty years down the line Nino continues to promote the FLEX program among the local community: 'When I visit schools and tell students about my life, they are always particularly interested in my FLEX year. Many are pleasantly surprised that the program is still operating in Georgia and feel encouraged to apply,' she says.
Nino advises the FLEX alumni not to lose track of each other: 'We have to stay in touch and treasure the community that we have. Having completed the FLEX program, we hold similar values.  Let's try and contribute to the world based on our experiences and shared vision'.
Article written by Tatyana Movshevich