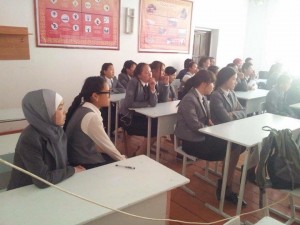 Altynai Ermenbaeva '15 & Islambek Ashyraliev '15
Project Title: Who, If Not Us?  When, If Not Now?
Project Location: Talas, Kyrgyzstan
$316 in 2015 Central Asia FLEX-Ability Grant Funding
On September 22-28, Altynai Ermenbaeva '15 and Islambek Ashyraliev '15 implemented the project called ' Who, If Not Us?  When, If Not Now?' aimed at raising awareness about bride kidnapping in Kyrgyzstan. This initiative attracted over 100 students from three local high schools in Talas. The first stage of the project was a series of interactive plenary sessions during which participants discussed the issues of bride kidnapping and gender discrimination. Each session included videos, brainstorming sessions, and team activities.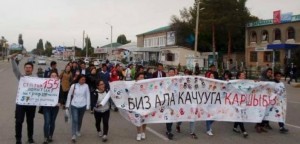 On September 28, the FLEX alumni team led a demonstration against bride kidnapping through the center of Talas. It was joined by high school and college students and supported by the city administration. Protesters waved banners and posters in protest of bride kidnapping.  'Our goal was to show that we, young people, stood against bride kidnapping and gender discrimination in general,' note the FLEX alumni.
'The FLEX-Ability Workshop made this project possible.  At the workshop we received the necessary skills and knowledge about project management, budgeting, regional issues, and discrimination,' they add.