'Living in a foreign country independently at such a young age made me much more adaptable and able to communicate with people.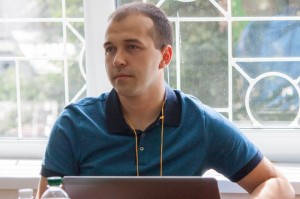 Iaroslav Zhydenko '06
Chernihiv, Ukraine / Birmingham, Alabama
Education: Bachelor's degree in International Relations and Master's degree in International Law from the Institute of International Relations, Taras Shevchenko National University of Kyiv
'The more active Ukraine is in the international arena, the busier we are,' says Iaroslav Zhydenko '06, a consultant at the Inter-Parliamentary Liaison Office by the Verkovna Rada of Ukraine Secretariate. As a consultant he organizes visits of foreign delegations to the Ukrainian Parliament. Still new at his job, Iaroslav has already been involved in preparing the visits of Joe Biden, the President of Cyprus Nicos Anastasiades, and a delegation from Israel's Knesset. Work usually comes in waves and the last six months have been particularly busy for the Inter-Parliamentary Liaison Office.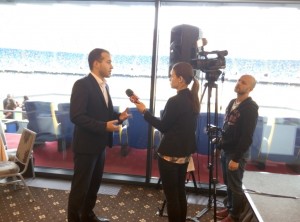 'Even if a visit lasts only half an hour, there are millions of tasks to prepare,' he says. Together with 22 colleagues Iaroslav compiles the agenda, meets with security services, and arranges transportation and accommodation.  'Plans of international delegations frequently change and we need to adapt as fast as we can – make new passes to the Parliament, rearrange cars, reschedule meetings and the internal program. This means working evenings and weekend,' says Iaroslav.
Despite long hours and tight deadlines Iaroslav enjoys his new dynamic job as it also offers exciting career opportunities. Since the Inter-Parliamentary Liaison Office is a part of the Ministry of Foreign Affairs of Ukraine, Iaroslav has a right to seek employment in the diplomatic corps. Working in the field of international relations has been his dream since his FLEX year:
'My host parents are lawyers and so during my time in America I started dreaming to become an international lawyer or a diplomat myself,' remembers Iaroslav. 'Living in a foreign country independently at such a young age made me much more adaptable and able to communicate with people. These are key qualities for both professions'.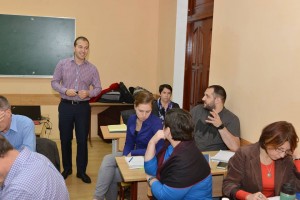 Prior to his current job Iaroslav worked as the head of the Reform Office in the Chernihiv region. In this position he was involved in the decentralization process of Ukrainian councils through amalgamating communities and providing them with self-governing powers. 'Giving executive powers to local communities reduces corruption, leads to finance optimization, competition, and as a result, rapid development. This process is essential for the European Integration as well. Ukraine signed the European Chapter of Local Self-Government, but never acted on it,' says Iaroslav.
Started in April 2015, the amalgamation process has already brought great results. In the course of nine months five self-governing communities were formed in the Chernihiv region. 'We travelled all over the region, described the pros and cons of the reform to local councils and explained how to make the changes happen in practice,' he says. 'These five amalgamated communities are like children to us – the creation of each one was a great success'. So far 159 communities have joined the reform throughout Ukraine.
Focusing on the positive results is Iaroslav's general approach in his work. 'Finish everything that you begin and be proud of the results. Even if you don't succeed at first, your experience and hard work will unavoidably pay off. But don't pause on the achieved – learn and develop constantly,' he shares with FLEX alumni.
Article written by Tatyana Movshevich