Aidai Amankulova '14
Project title: Learn English – It Links the World
Project Location: Talas, Kyrgyzstan
$277 in 2015 Central Asia FLEX-Ability Grant Funding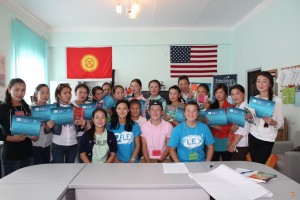 On September 6, Aidai Amankulova '14 conducted a one-day training at the American Corner in Talas for fifteen students from four nearby villages.  The alumna together with local Peace Corp volunteers held English language classes and sessions aimed at encouraging the young people to grab at the idea of studying languages.  Throughout the day students played games where they learned words in English, learned about American culture, and sang songs in English.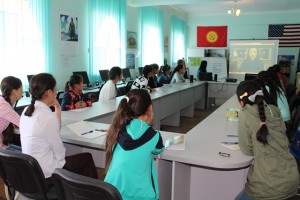 Organizers and participants screened a motivational video created by London-based FLEX alumna Aizada Marat kyzy '06. In the video the alumna described her personal successes of participating in FLEX and gaining acceptance to Harvard University and how she attributes her success to her knowledge of English.  Following the video, Aidai invited FLEX alumni to share their U.S. memories with the students through a panel discussion and encourage students to apply for the FLEX program.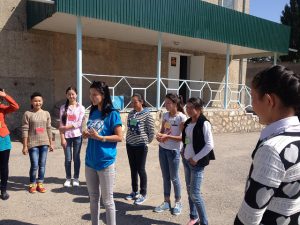 As a result of the project all of the participants joined English language clubs in their villages and made presentations about the importance of learning English in their schools.  Afterwards all of the training participants took part in the first round of the FLEX recruitment and a few of them passed to the second round!
Aidai is still in touch with the participants and is holding meetings with each of them to learn about their progress in learning English and offering them advice on ways to further develop it.