The following interview highlights the work of Esma Gumberidze '13.  Esma is an active alumna in Georgia who advocates for equal opportunities and access for all in Georgia.  Following the 2015 International Education Week theme Access for All and International Day of People with Disabilities the FLEX Alumni program highlights the work of this outstanding alumna.
Esma Gumberidze '13
Tbilisi, Georgia / Ocala, Florida
Education: Tbilisi State University School of Law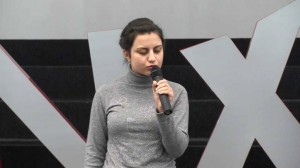 What was a key lesson you learned during your FLEX exchange?  When I returned to Georgia from the U.S., I was very inspired to get on with my career. During my American year I learned English, met a lot of wonderful people and had some amazing experiences. The world seemed open and I was particularly sure of one thing – that I did not want to get involved in a disability rights' movement in Georgia as I felt that not all people with disabilities had to necessarily work in that field.  Through me search, I realized that in order to fight for my career I would also have to fight for disability rights and equal opportunities for all citizens of Georgia to ensure that everyone has a chance to fulfill his/her potential and that his/her talent is not wasted.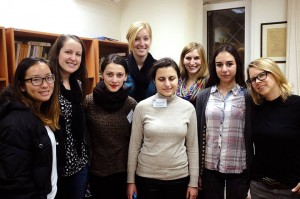 What are your aspirations? I dream to work in an international NGO using my legal knowledge. However, I am aware that building a career in such competitive sector for a person with disability in Georgia won't be easy.  My next step is to apply for Master's program in the U.S. or Europe and then work abroad for a few years. With a good education, language skills, and international experience I will be able to succeed against all odds.
Have you faced roadblocks in your job search?  Last winter I applied for a translator position at an annual international conference organized by a well-known bank. When I disclosed information about my visual impairment all communication with me stopped. It was very painful to experience and at first I was at a loss as to what to do next. Through consultations with Polish experts from a disability rights' training that I'd attended, I learned that I had the right to proceed with a court case.  To advocate for myself and other people with disabilities in Georgia, I took the case to court.  Without fighting for my rights, the situation in Georgia will never improve.
What did you do? I appealed to the Public Defender of Georgia Ombudsman and am now waiting for the hearing. Since Ombudsman's recommendations are not mandatory to follow, the employer won't face legal punishment, but this case might raise awareness about the situation of disability rights in the country.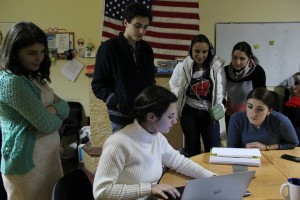 What projects are you involved in at the moment? Currently, I am translating the Georgian's National Program on Social Rehabilitation and Child Care 2015 from Georgian into English for the McLain Association for Children. It is an international NGO that works with disabled and vulnerable children and adults in Georgia.  Prior to that I was involved in a three-month Wikipedia translation project organized by the Sofix Company and funded by the Ministry of Sport and Youth Affairs of Georgia. In the course of this program ten selected people with disabilities translated 350 Wikipedia articles from four different languages (English, Russian, German and French) into Georgian.
Can you tell me about your recent experience as a TV host? In January 2015 the Blind Union of Georgia, of which I am a member, invited me to participate in a media project funded by the Ministry of Sport and conducted by the Obieqtivi Media Union. It was a two-month journalism training which resulted in me and three other project participants hosting a culture TV show called 'Immortal Values'.  We dedicated our show to the history of four main churches in western Georgia and interviewed experts on the subject.  The show highlighted the people with disabilities have outside interests and are also very talented show hosts!
As for professional experiences outside protected labor market, in the summers of 2014 and 2015 I worked as a counselor together with Peace Corps volunteers at the Girls Leading Our World Glow Camp.  There I managed the selection process and communication with participants before the camp and then led home group sessions where we discussed a variety of topics, including gender roles, health, and leadership.  I also spoke to 77 students during an International Spark program, a program which aims to build a new generation of post-Soviet leaders, directed by FLEX alumna Natia Sharikadze '08.
Message to FLEX alumni: You don't succeed and you don't fail in a day. Be appreciative of opportunities that come your way and try as many things as possible. You might not get everything you want immediately, but trying will help you understand what you are you will eventually become successful. Respect equal opportunities and human rights!
Any final thoughts?  One thing I'd like to add is how grateful I am to my parents who have always motivated me to do my best and invested a huge amount of energy in my career and education. They still spend a lot of time taking me from one event to another since Tbilisi is not really adapted for people with disabilities.  In 2014 Esma published an article about the obstacles people with visual impairment face in Georgia.
Interview compiled by Tatyana Movshevich