Ksenija Vukmirovic '08
Cetinje, Montenegro/ Indian Trail, NC
Education:  graduate of the University of Montenegro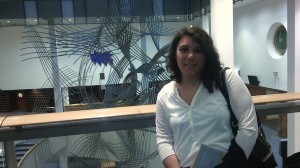 Vilnius, Lithuania.
On October 16, Ksenija Vukmirovic '08 participated in a conference on Cybersecurity – The Borderline Between Cybersecurity and Individual Freedoms. The event gathered business leaders, government officials, civil servants, and professionals working in the fields of law, IT, finance from around Europe.  During this one-day conference, participants addressed the topics of recent cyber threats and the most recent developments in the regulatory framework in Europe and in the U.S.  Participants attend panel discussions and   listened to keynote speakers U.S. State Department Special Advisor for Privacy and Technology Laura Ballard and Giovanni Buttarelli, supervisor of European Data Protection. The event was organized by the U.S. Lithuania Alumni Association as a part of 7th Semi-annual conference  of European Network of American Alumni (ENAM). Apart from the conference, Ksenija participated at the General Assembly of ENAM as a representative of (MAYAA) where she presented the work of the organization and discussed the potential future cooperation with ENAM and other European alumni associations.