Sevara Tadzhibaeva '15
Project Title: Girls Need Education
Project Location: Toktogul, Kyrgyzstan
$50 in 2015 Central Asia FLEX-Ability Grants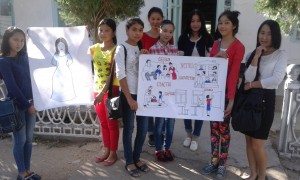 On September 16-18 Sevara Tadzhibaeva '15 ran a three-day training with the title 'Girls Need Education' for 15 girls from a village near Toktogul, Kyrgyzstan. The focus of the training was to encourage young women from rural areas to pursue education and career.  Together with her English teacher Sevara went to five rural schools, held meetings with students and then invited those girls who were not planning to continue with their education after high school to the event.
The training took place in two locations – the Education Center of Toktogul and local school # 1, both of which provided the venue for free. The organizer ensured that the project covered free transportation to and from the venue for all the participants.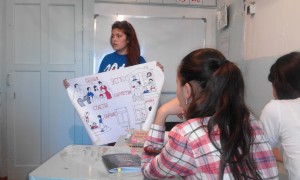 In the course of three days the alumna conducted activities and led sessions dedicated to the importance of university education, career orientation and female empowerment. The participants held group discussions, watched motivational videos about successful female role models, wrote essays and made posters. Sevara described how her academic excellence helped her become a FLEX finalist and encouraged young women to apply to the program.  On the last day of the training Kumar Jamgyrkanova, a representative from the Education Center of Toktogul, conducted a presentation describing her own career and challenges that she needed to overcome.
'The main result of the project was that all the girls felt motivated to continue with their education and career,' says Sevara. At the end of the project the alumna set up a group on Odnoklassniki through which the participants would share their experiences with their peers.  According to the alumna's estimates, in total the project will reach over 300 high-school students from nearby villages.
After the event Sevara was invited to a local radio where she talked about 'Girls Need Education' and promoted similar initiatives among local youth.  Sevara believes that the skills gained at the Central Asia FLEX-Ability Workshop were essential for the development of the training and is planning to conduct other activities in the future.