Aizhan Myrzabek Kyzy '15
Project title: Education for Equal Future
Project Location: Naryn, Kyrgyzstan
$500 in 2015 Central Asia FLEX-Ability Grants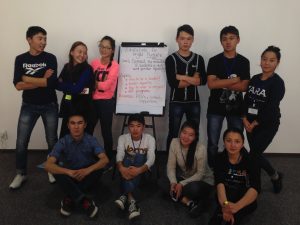 In rural areas of Kyrgyzstan bride kidnapping remains a huge issue with thousands of women forced into marriage across the country every year. On October 10-11, FLEX alumna Aizhan Myrzabek Kyzy '15 tackled the problems of bride kidnapping and gender-based violence by organizing a two-day seminar for eleven high school students living in the mountainous region of Naryn. The choice of the area was not coincidental. Naryn is infamous for its frequent cases of bride kidnapping and therefore raising awareness on the issue there was a priority. The seminar was a result of Aizhan's participation in the Central Asia FLEX-Ability Workshop after which she paired up with a Peace Corps Volunteer Ariel Anaya and developed this project.
To be selected, high school students filled out an application form answering questions about their leadership skills and views on gender issues. The seminar was divided into four sessions on the topics of gender and sex, domestic violence, gender stereotypes in contemporary culture, and bride kidnapping in Kyrgyz culture.  The sessions were  led by five FLEX alumni and two Peace Corps volunteers. At the beginning and end of the event, organizers conducted surveys to test the participants' knowledge and understanding of the issues and compare the results after the event. The survey results proved that participants' perspectives about gender stereotypes changed once they were exposed to and learned about the topics.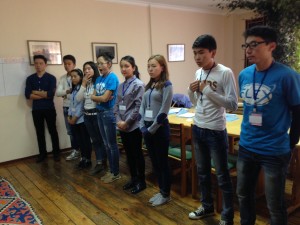 'The topics of gender stereotypes and domestic violence are considered to be very sensitive in Kyrgyzstan and a lot of teenagers are ashamed to discuss these  with their parents. It was, therefore, extremely important for us to create an open and safe environment  where participants could express their opinions and concerns,' says Aizhan.
'How do stereotypes empower and limit us? What role do they play in our life?' were some of the questions explored at the event. During the session on gender stereotypes participants were presented with common examples of how women are portrayed in the national and local media. Flicking through a range of magazines, students highlighted the fact that women in Kyrgyzstan were often seen as wives and mothers, while men were expected to be strong and disengaged from their families. Comparing these media cuts with their own personal experiences the participants saw how gender stereotypes directly affected their own lives.
'A few girls confessed that they dreamed of playing football alongside their male peers while some boys admitted that they wanted to be as actively involved in bringing up their children as their future wives,' shared the organizers.
Education for Equal Future received local media coverage and Naryn  was interviewed by a local online magazine in a section where  intellectual females can express their opinions and thoughts.  Read more at Sheisnomad.